The High Cost of Evictions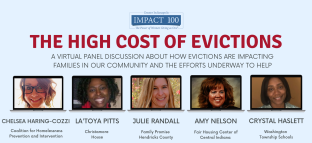 On November 10, 2021, Impact 100 Greater Indianapolis presented The High Cost of Evictions, an online panel of experts to educate our members on the eviction crisis in Indiana and on the impact of homelessness on families and children. 
The panel consisted of the leaders of organizations working to improve our community:
Chelsea Haring-Cozzi, Executive Director at the Coalition for Homelessness Prevention and Intervention (CHIP), CHIP drives a system-wide, community response to make homelessness rare, brief, and nonrecurring.
La'Toya Pitts, Chief Executive Officer at Christamore House, a 2010 Impact 100 Finalist. The Christamore House, through education, partnerships, and accountability, empowers the people of Haughville and the near Westside to be self-sufficient and contributing members to a safe and healthy community.
Julie Randall, Executive Director at Family Promise of Hendricks County, the 2020 Impact 100 Changemaker and a 2019 Finalist. Family Promise's mission is to transform the lives of families experiencing homelessness and poverty in Hendricks County, by providing housing, stability services, and homelessness prevention, with the goal of achieving sustainable independence.
Amy Nelson, Executive Director at the Fair Housing Center of Central Indiana (FHCCI). FHCCI's mission is to ensure equal housing opportunities by eliminating housing discrimination through advocacy, enforcement, education, and outreach.
Crystal Haslett, Community Liaison at Washington Township Schools. Social work services are provided by Washington Township Schools is its students. With respect to students facing homelessness, the schools provide assistance under the federal McKinney-Vento Act, which guarantees school enrollment for anyone who, due to a lack of permanent housing, lives in inadequate or temporary settings.
The Eviction Crisis
Amy Nelson began with an explanation of how the eviction moratorium had affected Indiana residents. She noted that before, during, and after the pandemic evictions were still happening and are still happening. However, in April through August 2020 when the governor's eviction moratorium was in place, there was a significant reduction in evictions. From September 2020 until the following August 2021 when the CDC moratorium was in place, there did not appear to be a similar reduction in evictions. Amy stated that we cannot assume that all evictions are fair, and we also need to realize that people will "voluntarily" evict themselves—that is, leave a property in order to avoid having a legal eviction record.
Chelsea Haring-Cozzi concurred that evictions were a problem before COVID. A 2019 study demonstrated that eviction has an unequal impact on black and brown families and neighborhoods. Her organization is now seeing an increase in homelessness and especially among families with children.
La'Toya Pitts explain that it doesn't take much for low-income families to lose a home. The problem for low-income families existed before COVID, but COVID has made the problem worse and more visible.
Julie Randall stated that, once a family has sustained an eviction, it can be exceedingly difficult and even close to impossible to find stable housing without assistance. We do need to acknowledge that evictions are lower now, she said, because there is a safety net which is helping some families, but the situation is still not good enough.
Impact on Children
Crystal Haslett spoke about the impact on children and their educational progress. In many cases, children are living with parents or family members who are really experiencing deplorable conditions. Parents will try to protect their children from becoming homeless and may keep them in homes that are not safe. She noted that moving and leaving a home can be disruptive for a child. For example, a child with a special education IEP (Individualized Education Program) might go to a school district where his or her IEP cannot be fulfilled. Children experience a loss when they have to transition to a new school—they lose their possessions, and they often lose direct contact with some family members and caregivers. And children observe the trauma that adults suffer during an eviction and homelessness. Chelsea agreed that homelessness does cause family breakups because many shelters don't intake whole families.
Crystal talked about what educators can do. She described a federal program for schools to deal with child homelessness. The McKinney-Vento Act provides funding to schools for students facing homelessness. The Indiana Department of Education can help schools access these funds.
Programs Addressing Evictions and Homelessness
Julie Randall focused on affordable housing, which is a centerpiece of the Family Promise Powerhouse program. Her organization seeks to find housing that is affordable and accessible to low-income individuals. Family Promise finds landlords who agree to intake renters who have had an eviction, who perhaps have a criminal history, or who do not have a strong employment record. The way to prevent future homelessness is to avoid the first instance homelessness; one case of homelessness is predictive of future situations of homelessness.
La'Toya Pitts described the activities of the 11 community centers—they work together with the Urban League to keep working families stable. These organizations provide rent and utility assistance through the Indianapolis Rental Assistance Program (IndyRent). In Phase I of the program, there was a simple application which initially provided 3 months of rent to those who qualified. That was not enough—a second phase of the program provided four installments of three months' rent. But some landlords refused to accept payments from IndyRent. Phase III of the program gives money directly to families for rent rather than funneling it to landlords, but some families have demands that prevented them from using the money for the rental purpose. Over 60,000 families have been helped through the IndyRent program, but there are 13,000 still on the list. There are other programs to assist on the mortgage side for example through IHCDA. But there is not enough money, and the delivery mechanisms are not quick enough to fully address evictions.
Chelsea noted that there is an eviction avoidance program in Marion County. And attorneys are provided for tenants in most of the Marion County townships eviction courts, but not in Perry or Franklin and there's only a partial program in Decatur and Center. Amy complimented Indianapolis Marion County on doing a very good job dealing with evictions and homelessness. However, the state as a whole is not at the same high level. The state may lose federal money that it has received for this purpose.
Looking Toward the Future
Amy stated that there is a need for state laws governing landlord/tenant rights and responsibilities. Local units of government (cities, towns, counties) are limited in the steps that they can take because the state legislature has preempted local units' authority in this area. Amy believes that the absence of a landlord/tenant law has contributed to a surge of out-of-state investors. These investors come to Indiana to purchase properties—both individual residences and apartment buildings—and they may not be interested in keeping low-income tenants. Amy gave further information about out-of-state property ownership. Indiana is 11th highest in the nation in terms of out-of-state speculators. Indianapolis is number one in the country for loss of home ownership through out-of-state purchases. Julie stated that out-of-state investors will not collaborate with community organizations. Chelsea noted that out-of-state investors have very restrictive tenant screening processes, which actually prevent families from being able to rent.
Julie said we cannot wait for legislative change. Her organization partners with landlords through the Powerhouse project—where the goal is to pull the whole community together. Fortunately, in Hendricks County only 27% of residents cannot meet their basic needs—a lower percentage than in other parts of the state. Family Promise's goal is to find affordable properties (properties where the rent is less than $1000/month). Family Promise has its own investors to purchase properties that can be used for low-income families.
Julie stated that, on the positive side, the federal child tax credit is helping families in making rental payments.
What Can We Do?
Panelists provided suggestions for ways that attendees could become more involved.
In order to be more aware of what is going on, we can subscribe to alerts from the Hoosier Housing Needs Coalition
To help children facing homelessness, we can reach out to the community and support organizations such as School on Wheels, Outreach, Indiana Youth Group, and Trinity Haven.
If we want to gain information about policy makers and their views on housing, after the 2022 legislative session, there will be score cards for state legislators published by advocacy groups.