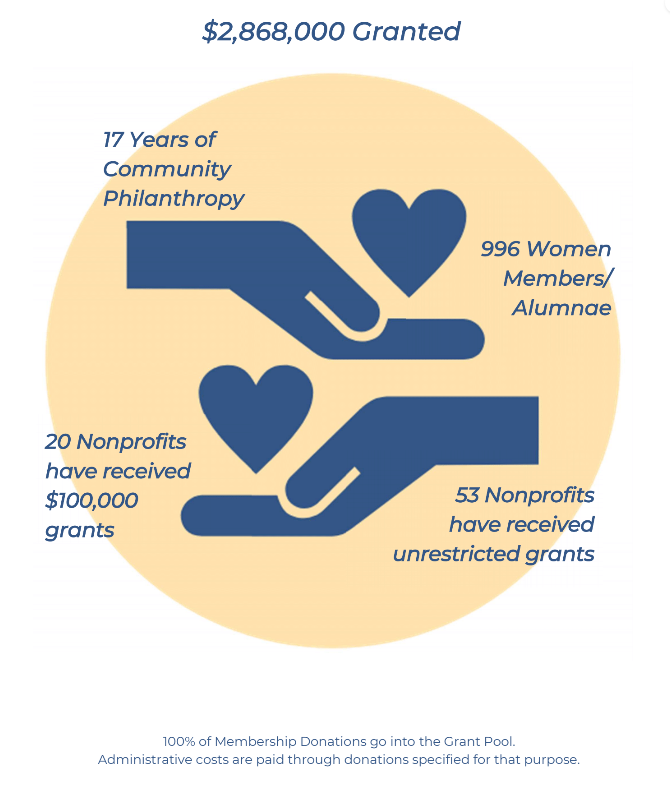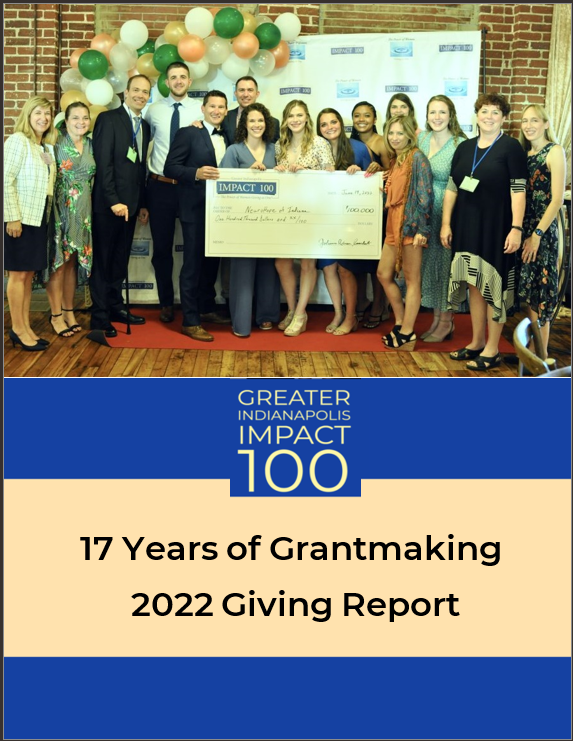 Click here to see our 2022 Giving Report with an overview of all previous grant recipients and other organization information.
Grant Awards 2022
Congratulations to our 2022 Change Maker NeuroHope of Indiana. They received a$100,000 grant for their Impact 100 Wellness Center and Path to Independence Program, the first fully adaptive, wheelchair accessible fitness center in Indianapolis.
Spinal cord injury, brain injury, and stroke change lives in the blink of an eye. Recovery takes months or years, but time in insurance-covered rehabilitation is limited to weeks. NeuroHope makes long-term care an affordable reality. The Wellness Center features specialized equipment, supervised access, and daily group fitness classes. When combined with their existing therapy services, it provides continuum of care unlike any in the community. You can read more about the Wellness Center here.
Four unrestricted Community Support Grants of $16,750 were given to:
Grant Awards 2021
Congratulations to our 2021 Change Maker: NeighborLink Indianapolis Foundation, Inc.
NeighborLink Indianapolis is uniquely positioned to help fill a gap in basic needs for some of the most vulnerable in our community. They provide home repairs and modification services for homeowners who are seniors or those with disabilities living in Marion County at or below 150% of the federal poverty level (less than $20,000 annually). NeighborLink provides these services at no cost to the homeowner so they may age in place safely and with dignity. They are able to do this by utilizing volunteer labor, partnerships and financial support throughout the community.
Over the past eight years, NeighborLink has established a solid organization with key partnerships to position themselves to expand the services they currently provide. In 2017, the NeighborLink board of directors and founding volunteers defined a five-year strategy for sustainability and growth to guide the organization. Part of that plan is to replace key volunteer staff, including their unpaid executive director, with professional staff who can grow the organization's capacity and move the funding from primarily grant-based to a more predictable income stream to sustain NeighborLink's mission. From the operations side, they are primed to double the households served from today's 250 to 500 by the end of 2022 to 2500 by 2030. Receiving this year's IMPACT 100 grant will help ensure they stay on track to meet these targets and grow their impact in the community.
In addition to our $100,000 Change Maker grant to NeighborLink, these four finalists each received $17,038 in Unrestricted Grants:
Grant Awards 2020
Congratulations to our 2020 Change Maker: Family Promise of Hendricks County!
Family Promise of Hendricks County was awarded $100,000 for their PowerHouse project. PowerHouse is an innovative community response preventing evictions and quickly rehousing those who are homeless, while offering supportive services to ensure stability. The organization has experienced a 40% increase in housing needs during the COVID-19 pandemic and through this project, Impact 100 funding helped the organization prevent homelessness for an additional 400 families and end homelessness for 75 families throughout Central Indiana. Those struggling will be able to find or keep their home through extensive partnerships within a caring community.
Without a home, other interventions are not effective. A home is needed to achieve sustainable stability. Reaching this solution is the focus of the PowerHouse Project. Central Indiana had the second highest eviction rate in the country, before COVID-19. Estimates from the National Low Income Housing Coalition find that Indiana will see a surge of 43,800 new low-income renters and a total of 205,837 renters will need rental assistance during the recovery from the pandemic. Hendricks County lacks accessible affordable housing. We need more housing in our community for those with prior evictions and poor credit. Those on the verge of eviction need help and hope to stay in their home and prevent their homelessness. These needs have been identified through many years of struggling to find adequate housing for limited income families and are now intensified. The PowerHouse Project is the solution to this struggle.
In addition to our $100,000 Change Maker grant to Family Promise of Hendricks County, these four finalists each received $26,500 in Unrestricted Grants:
Grant Awards 2019
Congratulations to 2019 Change-Maker Kennedy King Memorial Initiative!!!
On April 4, 1968, Dr. Martin Luther King, Jr. was assassinated and riots erupted in nearly every major city in the United States. Indianapolis, however, was spared from the violence. Many say it was due to the words and compassion shared by Robert F. Kennedy when he paused his campaign event to inform the crowd gathered at the park that Dr. King had been assassinated. In his speech, he said, "What we need in the United States is not division; what we need in the United States is not hatred;…, but is love, and wisdom, and compassion toward one another, and a feeling of justice toward those who still suffer within our country…" Hundreds of lives were changed that night. And the goal of the Kennedy King Memorial Initiative is to ensure Kennedy's speech continues to reverberate across the city, working its way deep into the hearts of many.
Words have power – then and now. The Kennedy King Memorial Initiative has been working for many years to honor Kennedy's message and the legacy of Dr. King. With help from numerous community partners, including the Lilly Endowment, Indy Parks, the Pacers Foundation, and now Impact 100, KKMI will open a Visitor's Center to bring history to life and draw visitors from within the community and around the world to learn more about this night and its message.
In addition to the $100,000 grant awarded to Kennedy King Memorial Initiative, the other four finalists each received a grant for $23,712! That's the impact of Women Giving as One!! These four finalists are:
Grant Awards 2018
Impact 100 Greater Indianapolis is proud to announce two 2018 Change-Makers, each receiving $100,000 grants: Brookside Community Development Corporation and Trinity Episcopal Church Trinity Haven.
Brookside Community Development Corporation will use its funding to expand its after school program offerings, creating the Brookside Community Play Education and Employment Academy. The academy will serve at-risk middle and high school students from the Near Eastside of Indianapolis, instilling hope through education and employability. The program will help students discover passion areas, improve socio-emotional development, build character and leadership skills, provide adult mentor relationships, boost academic performance, and equip students with employment opportunities.
Trinity Episcopal Church will use their grant to launch Trinity Haven, a welcoming transitional home for LGBTQ youth. Currently, there is not a single residential program specifically for LGBTQ youth in the entire state of Indiana. Trinity Haven will use the Impact 100 funds in partnership with Indiana Youth Group (IYG) to offer acceptance, support, and evidence-based programming that help its residents develop skills needed to thrive in the world.
2018 marked the 13th anniversary of Impact 100 in Indianapolis. The recipients were announced following finalist presentations and a vote by Impact 100 members at the Annual Awards Celebration on June 12. To date, the organization had awarded over $2.1 million to more than 50 local nonprofits. You can learn more about previous recipients in our Giving Report.
In addition to the two $100,000 grants, three additional finalists each received grants of $5000:
Grant Award 2017
Volunteers of America of Indiana received the $100,000 2017 Change-Maker Grant at the June 9, 2017 meeting held at Ritz Charles. VOA is using the $100,000 grant to expand VOA's Fresh Start Recovery Center, a unique residential addiction treatment center focusing on helping mothers involved with the Department of Child Services recover from addiction and have healthy children. The VOA program is unique because it provides residential beds for children under 5, thus allowing mothers and children to remain together while mother receives residential treatment.
They have received news from a major funding source that our grant, along with others, is being matched TWO TO ONE!!! This makes our $100,000 worth $300,000 towards VOA's work fighting the opioid crisis.
The other four finalists, who each received grants of $15,000, shared updates on their activities since June:
Grant Award 2016
Impact 100 Greater Indianapolis awarded a $100,000 grant to the IMPACT Program to Curb Runaway and Human Trafficking of Young Girls, a collaboration between Ascent 121 and Lutheran Child & Family Services, at their annual dinner June 7, 2016, at The Willows on Westfield in Indianapolis. The 2016 Change-Maker was announced following presentations by each finalist and a live vote by Impact 100 members.
The IMPACT Program which serves teen survivors of human trafficking. They increased capacity to help more survivors by hiring additional therapists and provided expert training for their clinical staff. Additionally, they want to make their residential unit feel like home for the girls. The grant provided fresh paint, colorful carpeting and some additional furniture in order to make their surroundings more conducive to recovery. Lastly, the program engaged the community by hosting a Human Trafficking Awareness Summit, bringing together thought leaders and experts to offer keynote addresses and workshops to better understand the issue.
The other finalists each received grants in the amount of $18,333: IndyFringe, Art With a Heart, and Dove Recovery House.
Grant Award 2015
Impact 100 Greater Indianapolis awarded $100,000 2015 Change-Maker Grant to Indianapolis Parks Foundation during the June 9, 2015 annual dinner. Indianapolis Parks Foundation used the $100,000 grant to expand the Indy Urban Acres (IUA) Flower Farm. The mission-driven eight-acre organic farm provides fresh fruits and vegetables to 80,000 people on Indianapolis's east side who use food pantries to help feed their families. The Impact 100 grant enabled the Indianapolis Parks Foundation to expand IUA's revenue-generating Flower Farm and increase farm food output by 30%—to 40,000 pounds per year. The income from the Flower Farm has exceeded expectations and Indy Urban Acres continues to grow.
The other 2015 finalists were WFYI and Ted Green Films for Attucks: A School that Opened a City, OASIS Indianapolis for Hi-Impact Tutoring, Lutheran Child and Family Services for The IMPACT Program to Curb Runaway and Human Trafficking of Young Girls, and Gennesaret Free Clinic for the Health Recovery Program for Homeless Women.
Grant Award 2014
Social Health Association of Indiana has received Impact 100's $100,000 Change-Maker Grant for 2014 for its program, Step Up for Kindness. The Step Up for Kindness Initiative uses the most complete evidence-based, age-specific curriculum available to educate 31,800 students ages 5-14 in 100 schools and community locations throughout Marion County. Customized to meet schools' specific cultural needs, students complete four sessions annually, totaling 5,100 hours of education. Through long-term, sequential instruction, students are empowered to exact behavior change, leading to measurable decreases in bullying incidents and increased safety in school communities. Bully Free Indy's website portal provides free, online educational resources to an even larger audience.
The four remaining finalists each received unrestricted grants in the amount $4,250 were Big Car Collaborative for their DoSeum Launch, Lutheran Child & Family Services for their YouthBuild Indy Bridge Project, Indianapolis Parks Foundation for Indy Urban Acres, and John P. Craine House for their Backyard and Park Project.
Grant Award 2013
Tindley Collegiate Academy – Girls Middle School was the 2013 Impact 100 $100,000 Change-Maker Grant award recipient! Tindley Collegiate Academy is the first all-girls middle school in Indiana, serving a majority African American population in the Meadows, one of the most challenged neighborhoods in the city. The Impact 100 grant equiped the Tindley STEM (Science, Technology, Engineering and Math) lab with computers, CAD software, drills, 3D modeling printers, and tools of all types. Girls use the tools to put scientific theories to real world use. To find out more, visit www.tindleycollegiate.org.
The remaining four finalists received grants of $5,250 each: Ruth Lilly Health Education Center, Reach for Youth, People for Urban Progress, and The Oaks Academy.
Grant Award 2012
On June 19, 2012 the members of Impact 100 Greater Indianapolis awarded a Change-Maker Grant of $100,000 to Jameson Camp, a fully accredited residential summer camp for youth ages 7-17. Jameson Camp also provides outdoor educational programs, Youth Leadership programs and a Challenge Course for all ages. This $100,000 grant allowed Jameson Camp to expand their outdoor educational areas, double the number of children served and establish permanent staff positions.
The remaining four finalists – Earth House Collective, Challenge Foundation Academy, Neighborhood Christian Legal Clinic and Dove Recovery House – each received $10,000 in unrestricted grants in recognition of their finalist status.
Grant Award 2011
June 9, 2011, Outside the Box was awarded the 2011 Impact 100 Greater Indianapolis $100,000 Change-Maker Grant. Outside the Box began in June 2008 and has in three years grown to 95 clients and 27 employees–maxing out its current space. Impact 100 funds were used to expand their services, facilities and spread the word of the good work they do for primarily young adult clients, without access to special education programs in schools. OTB is the only provider in Indiana that matches students in small groups sharing a bond of age, personality, interests and personal goals. Time at OTB is focused on skills and education in the areas of daily living, self-advocacy, community involvement and creative exploration in OTB's art therapy program.
The following four finalists each received unrestricted grants of $11,250: Arts Council of Indianapolis; Indianapolis Parks Foundation; Brook's Place; Morning Dove Therapeutic Riding Center.
Grant Award 2010
On June 10, 2010 Rock Steady Boxing received the 2010 Impact 100 Greater Indianapolis $100,000 Change-Maker Grant, and has used the funds to expand its services and facilities for its Parkinson's disease physical therapy program, as well as to expand its outreach to ensure growth outside of Central Indiana. The first program of its kind, Rock Steady Boxing is revolutionizing the treatment and outcomes for people with PD. Participants train their muscles to remain vital – starting with posture, balance, voice, strength, and mobility. The rigorous non-contact boxing program eases PD's debilitating symptoms, reduces the depression that often accompanies the disease, while fostering a community of support and infectious optimism. Perhaps most importantly, RSB provides the self-assurance needed to resume former activities that once brought participants joy and satisfaction. People at various stages of the disease are seeing dramatic improvement.
While Rock Steady Boxing received the $100,000 grant, the following finalists each received unrestricted grants of $16,250: Harrison Center for the Arts, Christamore House, Indianapolis Parks Foundation and the Business Ownership Initiative.
Note: We are thrilled to announce that Impact 100 Greater Indianapolis was the recipient of the 2015 Spotlight Award from The Women's Collective Giving Grantmakers Network (WCGN), recognizing the impact of our $100,000 grant to Rock Steady Boxing (RSB) in 2010. WCGN created the Spotlight Award to recognize women's giving organizations who practice impactful, transformational grantmaking. The criteria for the award is that a grant must be transformational to the grantmaking organization, the recipient's organization, and/or the community.
Grant Award 2009
On June 11, 2009 Impact members attended the Annual Awards Celebration to hear presentations and to vote to determine the recipient of their $100,000 Change-Maker Grant – Outreach, Inc. In 2003, the Indiana Department of Education approached Outreach, Inc. about starting a program to work with the homeless student population in the Indianapolis Public School system. These youth were moving from house to house, or on the streets with no stability and little or no parental involvement. They were youth who, without an outside support system, were dropping out of high school at an alarming rate. Project G.O.A.L. (graduation, occupation, address, lifestyle) was created. The G.O.A.L. program is designed to meet the basic needs of food, clothing, and shelter of unaccompanied youth enrolled in local high schools; to provide job skills training; to provide post-secondary educational opportunities; and to provide meaningful mentoring relationships.
Working together with school counselors, and administrators Outreach has increased the graduation rate of homeless students who become involved in the G.O.A.L. program from 25% to well over 65%, and of those graduates an average 50% continue on to college, or vocational school. The Impact 100 grant allowed Outreach to double program enrollment, added staff members and helped expand the mentor corps and its costs.
The four other nonprofit finalists each received $16,000 in unrestricted funds. These finalists were Indianapolis Opera, Fathers and Families, Improving Kids Environment, Inc., and Trusted Mentors.
Grant Award 2008
On Thursday, June 12, 2008 Impact members attended the Annual Awards Celebration to hear presentations and to vote to determine the two recipients of their $104,000 Change-Maker Grants. Each of the two finalists received $104,000 supporting their proposed programs highlighted below:
Herron High School – Arts Equipment for Education Excellence
Herron High School is a public Charter School located in downtown Indianapolis providing a classical liberal arts, college preparatory education that integrates the arts into their entire curriculum. Herron High School students had the highest Language Arts scores in Marion County on this year's ISTEP+ test. The proposed new project request for arts equipment (performing as well as visual) enabled Herron HS to foster student's latent academic potential and cultivate their passion for the arts; thus, setting groundwork for the next generation of civic leaders.
Horizon House – Engagement Team Project
Horizon House serves as Indianapolis' only multi-service day center serving the homeless of Central Indiana by providing comprehensive services to homeless individuals, including: day shelter, mail-pick-up, showers, laundry, long-term storage, employment training, case management, mental health and addictions counseling, medical care, legal counseling and referrals to local partnering agencies. Horizon House's program is designed to restructure their operations to implement a new Engagement Team approach to serve the homeless more effectively and to better align their services with the Indianapolis Blueprint to End Homelessness. The Engagement Team Project would utilize a collaborative, specialized team approach that would give the homeless access to a greater number of services in a more timely manner, thus reducing the length of time they are homeless and increasing their chances for long term success.
Our Committees celebrated the accomplishment of the following other 2008 finalists: Indianapolis Museum of Contemporary Art (iMOCA) – Connecting Everyday + Art, Hoosier Heartland Resource Conservation & Development Council, Inc. – Every Tree Counts, and Neighborhood Christian Legal Clinic – Helping Hoosier Homeowners.
Grant Award 2007
On Tuesday, June 12, 2007 Impact members attended the Annual meeting to hear presentations and vote to determine the two recipients of their $102,500 Change-Maker Grants. Each of the two finalists received $102,500 supporting their proposed programs highlighted below:
Indy Reads – Volunteer Tutor Training Program Expansion
Indy Reads, the only provider of free basic literacy tutoring to adults in Indianapolis, seeks to expand current volunteer training for tutors to reach more students. The proposal requests funds for the program manager position, for contracted certified trainers, to print tutoring materials, to underwrite pro-rated office expenses to Indianapolis Marion County Public Library, to fund travel to a ProLiteracy Conference, and to purchase training software. Indy Reads is currently undergoing a significant organizational change, operating as an independent nonprofit for the first time in its twenty-two year history.
John P. Craine House / Fairbanks Collaboration – The Next Generation at Risk
This new and innovative partnership between Craine House and Fairbanks, "Parenting Education and Interventions for Substance Impacted Mothers and their Children" addressed substance abuse issues of incarcerated women and their children. They were successful in reaching their ultimate goal in preparing the families for success–both in the present and the future– while breaking the cycle of substance abuse and incarceration that plagues too many Indianapolis families.
Grant Award 2006
On June 27, 2006 Impact 100 Greater Indianapolis had the opportunity to put their "one woman one vote" philosophy into practice for the first time. After months of studying 123 central Indiana nonprofits' grant requests Wishard Memorial Foundation (now Eskenazi) was selected as the group's 2006 Change-Maker Grant recipient.
A check totaling $152,000 was awarded to fund the Pecar Health Center Pharmacy. The Center is one of nine community-based clinics operated by Wishard Health Services and IU Medical Group-Primary Care that provides a variety of health-related services to predominantly underserved residents in the northwest side of Indianapolis. Last year the facility served over 10,000 patients and has an expected growth of 20 percent in 2006. The goal is for Pecar to be a "medical home" by providing a full array of services, including primary and preventative care, disease screening and control, dental care and mental health services.
Missing from the medical home model was a full-service, on-site outpatient pharmacy. The Impact 100 Greater Indianapolis grant provided the funding to complete construction of the 2,000 square foot facility at Pecar which opened June 30, 2007. The Pecar Pharmacy has the potential to dispense 100,000 prescriptions on site per year. Many of the patients do not have prescription drug coverage and use Wishard Advantage (Wishard Health Services' managed care program). This type of community based care provides the highest quality and lowest cost care for patients and makes it less likely patients use the county's emergency rooms for routine care.