Impact 100 Greater Indianapolis is a charitable women's giving circle dedicated to awarding high impact grants to nonprofits in our community. We seek to fund critical needs, new ventures, and innovative ways to solve social problems in order to create a more civil and respectful climate.

Review our work through our Annual Giving Report
or the Interactive Impact Map showing where our grantees are located.
Join the Giving Tuesday Movement!
Founded to inspire people to improve their local communities by giving on the Tuesday after Thanksgiving, we hope you participate in #GivingTuesday by helping Impact 100 Give the Gift of Scholarship. All donations made on #GivingTuesday will go to our Leaders of the Future Scholarship Program.
Letters of Intent (LOI)
Letters of Intent (LOIs) are the first step in the Impact 100 granting process. Applicants should review our granting process and meet our eligibility requirements before applying. Click this link for more information.
The deadline for submission of the 2024 LOI is December 15, 2023, by 5:00 p.m.
Leaders of the Future Scholarship Application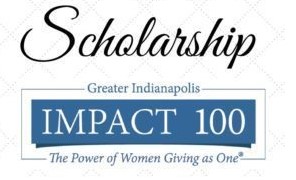 The Impact 100 Leaders of the Future Scholarship program has been an important pipeline for developing new members and future leaders for Impact 100. This is the schedule for the 2024 Scholarships:
You can learn more about the Scholarship program, including eligibility requirements here.
Rock Steady Boxing and Impact 100


Indianapolis Star has an in-depth story on Rock Steady Boxing and Scott Newman with a nice mention of Impact 100 as a critical donor: Indy Star: Scott Newman and Rock Steady Boxing (Oct 19 2023)
Learn How to Build a Nonprofit Organization

Have you ever wondered what it takes to start a nonprofit? The Indianapolis Public Library Foundation, with underwriting support from the Meridian Foundation, is presenting a series of sessions this fall for nonprofits, covering topics from Finding Grant Funders to Successful Grant Proposals.
Click here to learn more about the nonprofit sessions in our blog posting.
Meet Our 2023 Change Maker!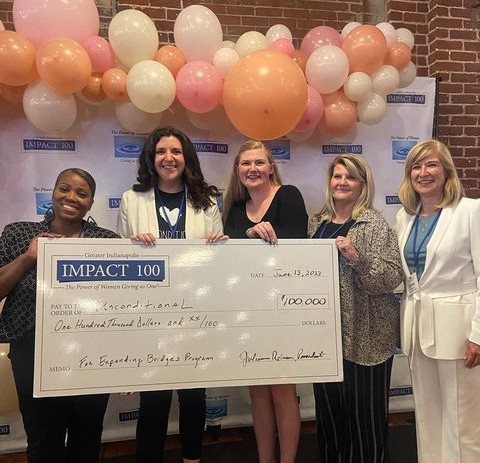 Meet our 2023 Change Maker Unconditional Indy. Our $100,000 grant will fund "Expanding Bridges" – a holistic housing assistance program for women who have transitioned out of sex work and the adult entertainment industries. We can't wait to see al of the amazing ways Unconditional Indy will continue to grow and impact so many women in our community over the next year.
These four nonprofits each received an unrestricted Impact 100 Community Support Grant of $13,000:
Go to our blog posting with more information on these projects!
Impact 100 has been an important part of the Indianapolis community since 2006, along with our annual goal of delivering more than $100,000 to nonprofits in the Greater Indianapolis community. Through our grants we have proven that collective giving works, and that a group of inspired women can accomplish much more than any one of us can alone. Visit our Membership Page for more information.
Your presence and support, members and guests alike, made all the difference. Thank you for allowing us to share how powerful empowering women in our community can be with Impact 100 Greater Indianapolis.
These are the 2023 Annual Awards Celebration Sponsors.
Our patrons supported the event through cash or in-kind donations to our Cookie Auction, Baskets, and Wine and Spirits Pull.