Impact 100 Greater Indianapolis is a charitable women's giving circle dedicated to awarding high impact grants to nonprofits in our community. We seek to fund critical needs, new ventures, and innovative ways to solve social problems in order to create a more civil and respectful climate.
Applications for the Leaders of the Future Scholarship Program are Due December 12, 2022
Founded to inspire people to improve their local communities by giving on the Tuesday after Thanksgiving, we hope you participate in #GivingTuesday by helping Impact 100 Give the Gift of Scholarship. All donations made on #GivingTuesday will go to our Leaders of the Future Scholarship Program.
Impact 100 has been an important part of the Indianapolis community since 2006, along with our annual goal of delivering more than $100,000 to nonprofits in the Greater Indianapolis community. Through our grants we have proven that collective giving works, and that a group of inspired women can accomplish much more than any one of us can alone. Visit our Membership Page for more information.
Applications for the Leaders of the Future Scholarship program are accepted during the last quarter of each year for a membership the following year. It is recommended that interested candidates review our website and blog postings to learn more about us and our processes before filling out the Leaders of the Future Scholarship Application Form. Because receiving this scholarship requires a time commitment from the recipient, it is necessary for the applicant to complete and send in the form herself.
Click here for the 2023 Leaders of the Future Scholarship Application Form
Upcoming 2023 Grant Cycle Dates
2022 Nonprofit Information Session December 6
Nonprofits in Central Indiana (Marion, Hamilton, Hancock, Shelby, Johnson, Morgan, Hendricks, and Boone Counties) are invited to attend an informational meeting to learn more about our process via Zoom on December 6 at 12pm (noon). You must RSVP to attend and receive the Zoom link – click here to make that RSVP.
LOI Form Submissions are Due January 13, 2023
Letters of Intent (LOIs) are the first step in the Impact 100 granting process and allow a nonprofit to submit an overview of how they would use a $100,000 grant. Applicants should review our granting process and meet our eligibility requirements before applying.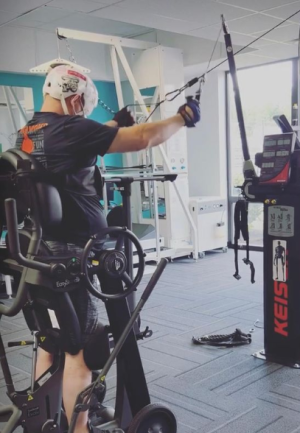 2022 Change Maker and Recipient of the $100,000 Change Maker Grant
Click here to see a video of some of the purchases made with the grant arriving at NeuroHope!
To get a better idea of what NeuroHope is all about, watch this video, too.
Four unrestricted Community Support Grants of $16,750 were given to:

Phalen Leadership Academies, Arts, Culture & Preservation

Paws & Think, Education

FACE Low-Cost Animal Clinic, Environment & Animal Welfare

You Yes You!, Family
See our post on the five grant proposals here.