2023:
2022:
2021:
2020:
2019:
2018:
2017
2016
Huffington Post Articles on Women's Collective Giving:
Name a Philanthropist… an NPR Podcast:
2006
IndyStar.com Business – John Ketzenberger
June 27, 2006
Philanthropy makes strides through gifts of all sizes
And the rich get richer, even when they plan to give it all away.
Warren Buffett's gift of $37 billion to the bill and Melinda Gates Foundation is an astounding four times greater than the Lilly Endowment's size.
Remember, the endowment is no small fry. It's the nation's fifth-largest charitable organization, with $8.4 billion in assets. It wasn't long ago the endowment soared to the nation's largest, thanks to the appreciation of Eli Lilly and Co. stock, which makes up the vast majority of its assets.
That won't happen again though, and not because Lilly shares won't appreciate. Put Buffett's mega-donation with the Gates Foundation, and you have a charity with more than $50 billion in assets.
"Everybody's way behind No. 1 now," noted Lynn Heckman, a spokeswoman for Lilly Endowment.
Buffett's donation to the Gates Foundation and four lesser grants are the talk of the philanthropic world. Gene Tempel, head of Indiana University's Center on Philanthropy, was in New York Monday for the announcement.
"I don't think there's ever been a news day like this in philanthropy," Tempel said.
Buffett's gift far exceeds those of noted philanthropists like Andrew Carnegie, who, in present dollars, gave about $7 billion.
Tempel has a vested interest, too. The Gates Foundation has pumped $750,000into the Center on Philanthropy. The money will cover half the cost of the center's 2007 and 2009 panel studies, which are comprehensive looks at how much people give to charities and why.
Charity is big business. Americans donated nearly $250 billion in 2004, according to the Giving USA Foundation. In Indiana, Lilly endowment is incredibly important. Nearly three-quarters of the $468 million the endowment gave away last year went to Indiana charities.
But big's not the only way to achieve high impact in philanthropy. Tonight 152 Hoosier women who ponied up $1,000 each over the last year will give it all to a single charity.
"This really did resonate with a lot of women" said Kelli Norwalk, co-founder of Impact 100 of Greater Indianapolis.
More than half of the women who donated served on the committees that selected the five finalists who will present their projects tonight at Riverwalk Banquet Center near Broad Ripple. After the presentations, the women will vote and the nonprofit receiving the most votes takes all.
"The whole goal was to create a ripple effect, to educate the members of our group to go out and be more engaged," Norwalk said.
That's funny. Buffett told Fortune magazine something similar in an interview. It's a point Brian Payne, head of the Central Indiana Community Foundation, makes all the time.
"I would hope that this inspires others…to be more engaged during their lifetimes so they can experience this thrill while they're still around to enjoy it," Payne said.
Big or small, when it comes to philanthropy it's all about making an impact.
2005
From The Indianapolis Business Journal
June 6-12, 2005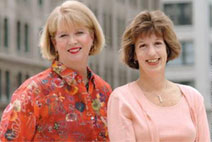 Women's group aims to pool philanthropic resources
High hopes for first year: two $125,000 grants to local charities
By Andrea Muirragui Davis adavis@ibj.com
By this time next year, the dozen women at the core of a new philanthropic effort hope to have found 100 or more like-minded individuals willing to open their hearts and their checkbooks to help the central Indiana community.They want to make a difference-a significant, six-figure difference in a world where progress often comes $100 at a time.
Modeled after similar initiatives in Cincinnati and Pensacola, Fla., the idea behind Impact 100 Greater Indianapolis is simple enough: get 100 women to contribute $1,000 each and then make one $100,000 grant to a local charity.
Ideally, the benefits will go beyond the not-for-profit's bottom line.
"Lives will be changed-our lives and the lives of the recipients-everyone involved," said Kelli Norwalk, a former small-business owner who is leading the charge along with self-professed philanthropic "dabbler" Donna Oklak.
"We want to raise the tide of philanthropy," Oklak added.
And getting women engaged in giving will do just that, they said.
"The ripple effect can be tremendous," concurred Wendy Hushak, who founded the nation's first Impact 100 group in Cincinnati in 2001. "Members learn about non-profits in the community and are inspired to continue giving. . When they get involved, it feels so good, they want to do more."
Indeed, that connection is what sets socalled "giving circles" apart from more traditional check-writing philanthropy.
Members of the grassroots groups aren't necessarily wealthy, but their pooled resources can be impressive. And the pitch-in approach lends itself well to shared decision-making, an appealing aspect for donors who want more control.
"Donors want to be involved and knowledgeable about where their money is going and who it is helping," said Rob MacPherson, vice president of development for the Central Indiana Community Foundation. "They're doing more than just . giving."
Women in particular have been drawn to giving circles as they've gained steam nationally, according to a February study from Washington, D.C.-based New Ventures in Philanthropy, an initiative that promotes philanthropic innovations.
The study estimated at least 220 giving circles have generated $44 million for charitable causes since 2000. More than half of the groups-like Impact 100-are comprised exclusively of women.
"Women like to get together and do things," said Sondra Shaw-Hardy, a cofounder of the Women's Philanthropy Institute, now part of the locally based Center on Philanthropy at Indiana University. "[Giving circles are] an outgrowth of sewing circles, book clubs, even investment clubs. . They are helping to grow women philanthropists."
Historically, women were conditioned to support causes with volunteer hours rather than money, she said, but that trend has been changing.
"Nowadays, time is really the most valuable thing women have," Shaw-Hardy said.
Hushak found that out when she tried to get her girlfriends involved with various charitable endeavors in Cincinnati. The stay-at-home moms couldn't justify paying a baby sitter so they could volunteer, and the career women were too busy.
"All those women were under the radar screen, shut out of mainstream ways of giving back to the community," she said. "They were missing out."
Until Hushak's brainstorm-create an organization that would allow them to help without a major time commitment.
A 12-member executive board plans to start recruiting members in October-an informal membership drive is under way-with a goal of signing up 250 women and making two $125,000 grants. But they are quick to say they don't want members to join Impact 100 at the expense of other charitable causes.
"This should augment what they're doing, not replace it," Norwalk said.
CICF has signed on to advise and host the new group until it gets some experience and its own not-for-profit status.
"It's a lot of work, managing the expectations of so many donors," MacPherson said, and "a lot of responsibility comes with collecting and distributing $100,000." Still, it's a task leaders are eager to tackle.
"We can do so much more collectively than we can as individuals," Oklak said. "There's a real magic to giving away that much money."
Publication: Indianapolis Business Journal; Date: Jun 6, 2005; Section: INSIDE ; Page Number: 6