A Q&A with Dan Shepley, Executive Director of Jameson Camp
On June 19, 2012 the members of Impact 100 Greater Indianapolis awarded a grant of $100,000 to Jameson Camp, a fully accredited residential summer camp for youth ages 7-17. This $100,000 grant allowed Jameson Camp to expand their outdoor educational areas, increase the number of children served, and establish permanent staff positions.

Dan Shepley, the executive director at Jameson Camp, let us know what the camp has been up to recently.
Impact 100: Jameson Camp was founded in 1928 and has quite a rich and interesting history!  Can you tell us a little about it?
Dan Shepley: Jameson Camp was founded in 1928 as a "fresh air" camp for children suffering from tuberculosis. From there we became a nutrition camp during the Great Depression era. Today we are year-round youth serving agency. We operate an accredited summer camp, youth leadership, outdoor education, and challenge course/teambuilding programs. We welcome all children but primarily serve disadvantaged youth. We specialize in serving youth with minor social, emotional and behavioral challenges. These children may be coping with a range of challenges including Autism, Attention Deficit Disorders, and HIV/AIDS.
Impact 100: Can you share how you used the $100,000 grant from Impact 100?  What results did you see from this investment? (Pictures would be appreciated!)
Dan: The Impact 100 grant enabled Jameson Camp to significantly expand and enhance our Outdoor Education program. Our primary goal for this program is to promote a greater appreciation and understanding of nature among children through a wide range of standards-based environmental education experiences. Impact 100 allowed us to make our Outdoor Education Director a full-time position; previously it had been part-time or contracted position. Having someone in that role 40 hours a week has enabled us to significantly increase the number of students and campers we are able to serve and to improve the quality of our programming.
A number of new activities and elements were created at camp with Impact 100 funding:
A small learning pond
A bridge across our creek, which gives children and staff easier access to a portion of our property
A natural playground that includes an agility course and a music area
A native species trail. In order to do this we cleared out invasive honeysuckle and planted species native to Indiana. We also made signs and a guidebook, so students can go on a self-guided hike.
A treehouse in the woods
Improved supplies for  our environmental education activities
New displays to make our Nature Center more interactive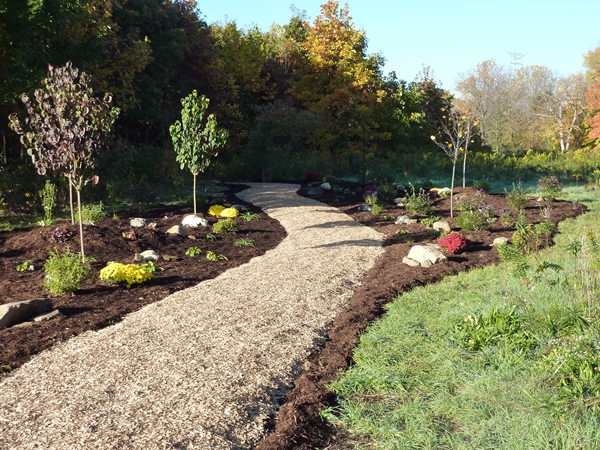 The butterfly garden.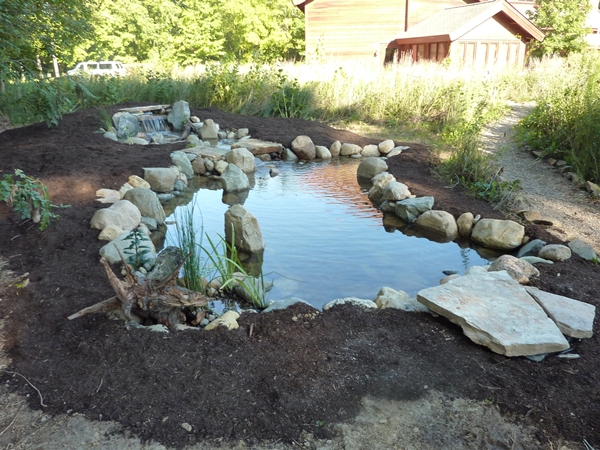 The learning pond.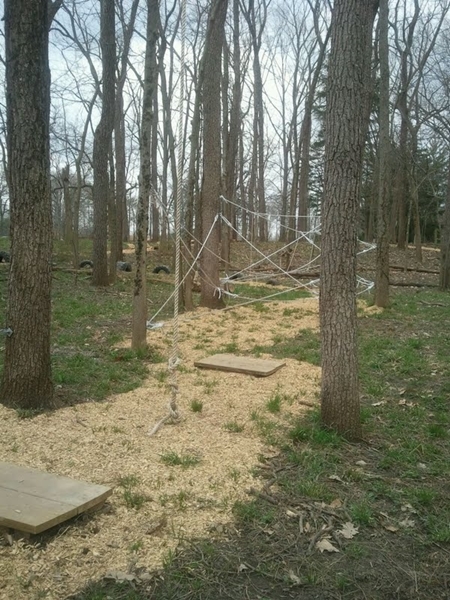 The natural playground.
Funding from Impact 100 also allowed us to cover transportation costs for schools that otherwise would not have been able to participate in an educational field trip because of budget cuts. This grant not only allowed us to enhance our program with new activities, but enabled us to serve more children! Please see the table below for results. Please note we received the Impact 100 grant in 2012.
| | |
| --- | --- |
| Year | Number of students |
| 2011 | 574 |
| 2012 | 1943 |
| 2013 | 2411 |
As you can see the numbers, speak for themselves! Impact 100 allowed us to better develop a high-quality environmental education program and to have a greater reach in the community. Thank you for your support!
Impact 100: What are some of the new or evolving programs offered at Jameson Camp?
Dan: Over the past few years, our Outdoor Education program has expanded, not only in the number of children served, but also in the activities and elements offered through this program. This is a direct result of our receiving the Impact 100 grant in 2012. Outdoor Education has also been better incorporated into our summer camp program, so that our summer campers have the opportunity to participate in environmental education in a fun and exciting setting.
Separate from the Impact 100 grant, our Challenge Course programming has also expanded.  The course includes a rock climbing tower, high ropes course, zip line, and teambuilding area. We've doubled the size of our high ropes course by adding 4 new elements. We also added a small zip line, so that our large zip line and our high ropes course are connected. This has allowed us to make the course more challenging and to be able to serve more people at one time. Since our summer campers often return year after year, we are always looking for ways to add fresh programming and activities to keep camp engaging to them. We can also have more participants up in the air at the same time. That is important because we can now accommodate larger groups in a more time-efficient manner.
We have recently taken steps to make our already good Youth Leadership program even better.  As one example we launched a new mentoring component.  In 2012, we contracted with the Indiana Youth Institute (IYI) to evaluate our year-round Youth Leadership program serving teens 13-18. Through this we learned we had a great program, but there were elements we could add to make the program better and enable us to better serve our teens. We are currently taking steps to make these recommendations a reality. In December 2013 we hired an additional program manager to oversee the Youth Leadership program. This year, 2014, we launched Youth Leadership Mentoring, a formal one-on-one mentoring program for our teen Youth Leaders. Other ways this program is evolving includes a new evaluation system to measure our outcomes and having the teens create an annual individualized leadership plan.
For the first time ever we will offer one session of day camp for ages 5-10 this summer! This will allow us to serve some younger children and give more children the opportunity to experience camp. We try to add new activities to our traditional summer camp program to keep the programming fresh for returning campers. In the past few years we have added mountain bikes, a treehouse, a gaga pit (a form of dodge ball), a hammock garden, and more.
Impact 100: What activities and programs do you have planned for summer 2014?
Dan: For summer 2014, Jameson Camp is offering seven weeklong sessions of residential camp for age 7-17 and one weeklong session of day camp for ages 5-10. Summer Camp kicks off on Sunday, June 1 and ends on Sunday, August 1. Please visit our website for specific camp dates and registration information.
Traditional Camp – A 6 day/5 night program that offers our traditional camp activities along with a focus on the 40 Developmental Assets.
JC Juniors Camp – A shorter 5 day/ 4 night camp which allows our younger campers to try camp out for the first time with our Youth Leaders helping to guide them along.
Wellness Camp (Specialized) – A 6 day/5 night program that focuses on healthy eating, exercise, and making positive choices in daily living.
Tataya Mato – A free 8 day/7 night session for children ages 7-17 who are impacted by HIV/AIDS. We work to provide transportation for any child who attends.
While at camp children will participate in a variety of activities such as rock climbing, archery, nature hikes, journalism, culinary arts, overnight campouts, talent shows, and more! Our teen Youth Leaders will participate in programming focused on leadership and go on multiple day camping trips to Indiana state parks or travel to Tennessee to the Appalachian Trail.
Impact 100: Tell us about some of your upcoming fundraisers. What projects are you hoping to fund this year and beyond?
Dan: 2014 May Breakfast – This is an annual fundraiser aimed at raising money to support camperships for our low-income summer campers. The May Breakfast will take place on Thursday, May 8 from 7:30 – 8:30 am at the Fountains in Carmel. Come learn about our programs, listen to personal stories from campers, and enjoy a complimentary breakfast.
Painting with a Twist – Hosted by Jameson Camp's Women's Auxiliary on Saturday, June 7 from 5:30 – 9 pm, Painting with a Twist gives you an excuse for a girls' night out and supports a great cause. Your purchase of a ticket for $50 includes art supplies and instruction from an artist, 2 glasses of wine, hors d'oeuvres, and a $15 tax deductible donation to Jameson Camp.
Casino Night – Save the date for Saturday, October 4! Jameson Camp will host a Casino fundraiser to raise funds to support our youth programs. More details to be announced in the next few months!
Monthly fundraising events – Unplugged (Jameson Camp Young Professionals Group) partners with local restaurants, bars, and organizations to host small fundraisers every month to support Jameson Camp's youth programs. Keep an eye on our social media and e-newsletter to learn about upcoming events.
Impact 100: How can Impact 100 members donate, volunteer or otherwise get involved with Jameson camp?
Donations
We appreciate donations of any size or kind!
Monetary: You can give a one-time or reoccurring monetary gift(s) through our website. You can mail a check to Jameson Camp (2001 Bridgeport Road, Indianapolis, IN 46231). You can sponsor a low-income camper to attend a week of camp by making a donation of $500 (monthly donation of $42) or sponsor a youth leader for an entire year of programming by donating $2,000 (monthly donation of $167). Or you may attend one of our fundraising events listed above.
In-kind: Jameson Camp is always in need of a variety of in-kind donations including sunscreen, bug spray, art supplies, blankets, copier paper, ice melt, gift cards for gas or hardware stores, and more. For a complete list please visit the In-kind Donations page on our website.
Volunteer
Short-term opportunities:
Bring a group of co-workers or friends out to do a volunteer project such as painting cabins, trail maintenance, planting and mulching, pick up trash, clean buildings, etc.
Plan and lead an activity with our summer campers or youth leaders
Help out at one of our many fundraisers or events
Long-term opportunities:
Facilitate Outdoor Education classes with school groups in the fall or spring
Become a mentor to one of our teen youth leaders
Join either the Unplugged (Jameson Camp Young Professionals) or Women's Auxiliary to help raise funds and community support for Jameson Camp.
Serve on one of our committees (Program, Marketing, Finance, etc.)
Other ways to get involved
Sign up for our monthly e-newsletter to keep informed on upcoming events and programs. Help us spread the word by promoting Jameson Camp's mission and programs via word of mouth or social media. Rent our facilities or bring a group out for teambuilding and challenge course programming. Revenue from rentals and programming helps support our youth programs.
Impact 100: What are Jameson Camp's plans for the future?
Dan: Jameson Camp plans to continue to expand and enhance our programs and facilities in order to better meet the needs of the youth we serve. We are in the process of obtaining an additional 31 acres of property adjacent to camp. While we are still in the preliminary planning stages our ideas for this land are to create more hiking trails, put in a big pond, and possibly build an outdoor education and a retreat center. We will use the additional land to further expand our programs, specifically our Outdoor Education program. Looking ahead in the future, Jameson Camp is considering some capital projects that would allow us to have an indoor recreation space, additional sleeping facilities, an outdoor classroom, and more office space.
In the future, Jameson Camp wants to continue to grow and enhance our programs. We are looking at offering family camps and offering outdoor education focused day camp during school intersessions. If our day camp session this summer succeeds, we hope to offer more summer sessions moving forward. This year we are focusing on building a solid foundation for Youth Leadership Mentoring program and will continue to grow this program in the future.


Jameson Camp kids exploring the creek.