A Q&A with Travis DiNicola, Executive Director of Indy Reads
by Jennifer Bortel
On June 12, 2007 the members of Impact 100 Greater Indianapolis awarded a $100,000 grant to Indy Reads, the only provider of free basic literacy tutoring to adults in Indianapolis. Our grant allowed Indy Reads to expand current volunteer training for tutors to reach more students.
Travis DiNicola, the executive director at Indy Reads, took some time out of his busy schedule to answer some questions for us: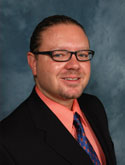 Travis DiNicola
Impact 100: The Indy Reads website states that one in five adults in central Indiana read at or below the sixth grade level. What does Indy Reads do to help combat adult illiteracy, and why is this so important?
Travis DiNicola: Indy Reads is the only ProLiteracy partner organization in Central Indiana which uses trained volunteers to provide free reading, writing, and life-skill instruction to adults, 18 and over, through one-on-one tutoring, small group sessions, English as a Second Language instruction, Family Literacy workshops, through our Literacy Lab outreach program at neighborhood centers and in the jails, and now through our bookstore: Indy Reads Books. Our mission is to promote and improve the literacy of adults and families in Central Indiana. Our goal is to "Make Indianapolis 100% Literate."
Improving adult literacy is at the core of workforce development. The most recent United Way Community Assessment notes that a "significant portion of adults do not demonstrate sufficient literacy and numeracy skills needed to fully participate in an increasingly competitive work environment" in Central Indiana. Adults who can't read are at-risk individuals. Adult illiteracy is an educational, health, economic, public safety, and family issue. We believe that it is unacceptable that almost one in five adults (National Assessment of Adult Literacy) in Indianapolis cannot read well enough to fill out a job application, understand a newspaper, or help children with their homework. It is near impossible for an adult who struggles with reading to be self-sufficient. When adults, and especially parents, can't read, it affects the entire community.
Indianapolis is facing some of the worst graduation rates in the country. Our students are the victims of failing schools. The number one predictor that a child will not graduate is that his or her mother cannot read. In fact, a recent study shows that having a mother who completed high school is significantly more important in determining whether the child will drop out then whether the mom is married or earns a higher income. Increases in health care costs, rises in prison populations, higher unemployment rates, in addition to lower graduation rates are all attributable in part to adult illiteracy. Ending adult illiteracy is key to breaking this cycle.
Impact 100: Tell us about Indy Reads Books, your independent bookstore on Mass Ave.
Travis: Thanks to the original contribution by Margot Lacy Eccles in 2011, Indy Reads was able to open Indy Reads Books, a community bookstore selling used and new books in downtown Indianapolis, along the Cultural Trail. First on a napkin, and then later in a full proposal, the original plan for the store was created under the direction and guidance of Mrs. E. Key elements of this plan she championed are that all used books are donated and sold at a very affordable price, that the store is run by a combination of a few paid staff with numerous volunteers, that the store provides space for our students and tutors to work, and that all proceeds from the store go back to support Indy Reads adult literacy programs. Mrs. E. wanted the store to serve the community. What we didn't anticipate is that the store would also become a hub of cultural activity on Mass. Ave. Since we opened in July of 2012, we have hosted more than 300 free cultural events, including author readings, plays, art exhibits, lectures, children's story-time, films, concerts, and classes.
In addition to being a community bookstore, the original plan called for the store to generate funds which would go to support Indy Reads adult literacy programs. The store has not yet been able to do this directly from a financial standpoint. Currently, it is just breaking even on a monthly basis. It does pay for itself (no funds designated for Indy Reads programs will ever go to support the bookstore), but it is not yet able to contribute to the organization financially. This is only half the story though—Indy Reads Books has become the "face" of the organization. The store generates a significant amount of publicity for the organization and our mission—it is the top reason our volunteers refer to when we ask how they heard about us. We are mentioned in the paper an average of once a week, and twice in the past two months the store has featured in an article three times in one week in the Indianapolis Star. This is publicity that an organization the size of Indy Reads could not possibly afford. The bookstore has quickly become our most important tool in connecting to our students, volunteers, and donors.
Impact 100: Can you share how you used the $100,000 grant from Impact 100?  What results did you see from this investment?
Travis: Indy Reads had been an independent non-profit less than six months when it received the Impact 100 grant in 2007. We had a staff of two, and were serving about 300 students annually with our programs.  That grant gave us immediate credibility with other funders in the city, allowing us to leverage additional funding to support our work. Funds from the grant were used to pay for additional volunteer recruitment, orientations, and trainings so that we could grow our program. In 2013 we provided free literacy services to a record 1,624 adults – this represents an almost five-fold increase in services in the seven years we have been an independent non-profit organization, and received the Impact 100 grant. We would never have experienced this sort of growth if not for the original investment by Impact 100.
Impact 100: How has Indy Reads changed since you became executive director in 2006?
Travis: It has changed dramatically!
From serving 300 adults annually to over 1,600
From 2 staff to 16
From only serving Marion County to serving all surrounding counties, and now having satellite offices in both Boone and Hendricks counties
From only offering one-on-one tutoring and some small group ESL to now offering services through more than 35 Literacy Labs located throughout the city – in community centers, GED classrooms, the jails, the adult high schools, and through other partners
Adding a Family Literacy program to work with at risk parents and their children
Organizing and hosting 10 "Community Literacy Summits" where more than 150 non-profits in the community have had an opportunity to come together to share with each other how they can partner with each other in improving the literacy of all members of our community
And now we have a bookstore!
Impact 100: Can you tell us about the other communities in central Indiana that are partnering with Indy Reads to provide your tutoring services?  What has made these new partnerships successful?  
Travis: Indy Reads counts over 100 organizations as partner organizations, including organizations we share clients and services with to organizations we work with on a referral basis. During the past two years we have been able to greatly expand our impact outside of Marion county with satellite offices in Boone and Hendricks. The "Indy Reads: Boone County" office is located in the Lebanon Public Library, and the program is made possible with support from the Community Foundation of Boone County. The "Indy Reads: Hendricks County" office is located in the Plainfield Public Library and made possible with support from the Duke Energy Foundation.
Impact 100: Tell us about some of your fundraisers, particularly your Alphabet Affair in April each year. 
Travis: YES!  By honoring a different letter of the alphabet every year, the Indy Reads Alphabet Affair raises funds to help make Indianapolis 100% literate. Attire is black-tie optional or you can come dressed in a costume for each year's letter. For our 2014 party, the letter was "P" and we had costumes from pirate, parrot, photographer, paralegal, pastor, peacock to patriarch!
Impact 100: How can Impact 100 members donate, volunteer or otherwise get involved with Indy Reads?
Travis: PLEASE come to our Alphabet Affair!! Or, shop at our bookstore! Or, donate books to our bookstore! Or, register for a volunteer orientation to learn more .
But we would really like you to come to the Alphabet Affair.
Impact 100: What are Indy Reads' plans for the future?
Travis: Well, we've got TWO really big projects in the works, and as much as we would like to tell you all about them, they are still a secret. We hope to announce plans for both later this spring, or possibly one this spring and the other late summer. But, here is a hint – one project has to do with publishing, and the other has to do with public art!