Follow the Impact: Dove Recovery House Empowering Women
by Terry Mumford
Founded in 2000, Dove Recovery House for Women is "committed to empowering women to become substance free, self-sufficient and healthy, by providing safe housing, quality programming and, above all, hope for the future."
In 2012, Impact 100 Greater Indianapolis made a $10,000 residual grant to Dove House. The residual grant money was used for general clean-up and maintenance of the house, but Dove House received more than residual grant dollars that year. They were the recipients of what Impact 100 calls the ripple effect. One of the items on their full grant proposal was to tear down an old garage and turn the area behind the house into an outside gathering area, playground, and garden. Laura Carroll and Barb Fleming Cecil, members of the Health & Wellness Focus Area Committee that had selected Dove House as their finalist, got the labor donated to remove the garage and level the ground. Other H&W FAC members donated their time to the effort. Then Dove donors and volunteers took over to transform the backyard area.
On Wednesday, November 4, Impact 100 members and guests returned to see what the grant had meant to the women. The impact of the Power of Women Giving as One® was evident in results of the grant given to Dove House. Many of us take for granted that on a delightfully warm evening we can go outside to enjoy the company of friends. Until they had applied for the Impact 100 grant and made an unforgettable impact on the women of the H&W FAC, that wasn't possible for the women of Dove House. The current Dove House residents were very clear in their appreciation for the maintenance improvements and outdoor space.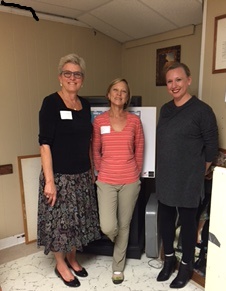 Wendy Noe, Executive Director, talked to us about how Dove House currently operates and also let us know about exciting future plans. Dove House has acquired a much larger building and plans to move in 2016. This new location will allow many more women to have "support while overcoming serious drug and alcohol addictions."  As Wendy told us, Dove House really saves lives.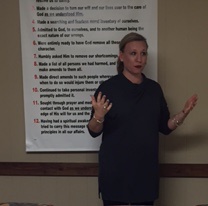 The most inspiring part of the evening was a speech by one of the residents. She described her life prior to coming to Dove House and what Dove House has meant to her over the course of her 100-day stay. Her message was very personal and powerful. She emphasized a key part of the Dove House mission — providing hope for the future.
We encourage all Impact 100 members to learn more about Dove Recovery House for Women at their website – Doverecoveryhouse.org.
We want to thank Andi Cohen, Eat Your Heart Out Catering, for the food at the event. The bacon jam was a hit!