FIDO, 2020 Residual Grant Winner Report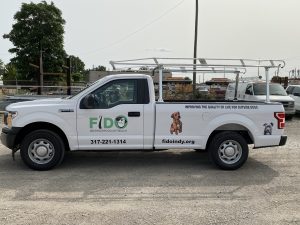 Darcie Kurtz, Executive Director of Friends of Indianapolis Dogs Outside (FIDO), submitted the nonprofit's residual grant final report. The report emphasized the importance of our residual grants on local nonprofits.
What follows is their December 14, 2020, report.
Impact 100: How did the unrestricted fund strengthen your organization?
FIDO's old truck used for the FIDO Fence Program had over 200,000 miles on it and was in need of expensive repairs. Impact 100 unrestricted funds were used to purchase ne For F-150 pickup truck. The funds also provided for a bed liner and ladder rack to outfit the new truck for hauling fence materials to our client's homes. The new truck was also outfitted with donated exterior graphics including FIDO's name, mission, website, helpline number, and eye-catching photos of dogs FIDO has helped over the years. Having a new and reliable truck has strengthened our fence program already, and the exterior graphics have been a boost for marketing the FIDO organization as the truck drives all over Indianapolis.
Impact 100: Describe the specific successes achieved as a result of receiving the unrestricted funds from Impact 100 Greater Indianapolis.
Since the Impact 100 funds were used to purchase the new truck, the FIDO Fence Program has completed 53 fence projects to free 122 dogs form the end of a chain and provide them with large secure areas to exercise and play when outside. The fenced enclosures are constructed around an exterior door of the house to enable our clients to bring their dogs inside the house at night and during extreme weather, in compliance with Indianapolis dog care and treatment ordinances. Approximately 10 of these projects, to secure approximately 25 dogs, were completed at the request of Indianapolis Animal Care Services (IACS) officers in response to IACS cases of dogs getting loose, running at-large in the neighborhood, and posing public safety risks.
We are so grateful for this funding from Impact 100 to enable FIDO to provide 53 low-income families and their 122 dogs with "secure freedom" in large fenced enclosures to date. The pickup truck will be used for many years to come as we expand our fence program in 2021 and beyond to serve 200 families and an estimated 460 dogs annually with secure and humane fenced enclosures.