Meet the 2018 Young Philanthropist Scholarship Members (Overview)
Impact 100 has always been about making a difference – both for the nonprofits to whom they offer grants, and among the Indianapolis community at large. In the last six years, Impact 100 has been making a difference in shaping the philanthropic perspectives of young women through its scholarship program, which covers the cost of membership for promising young philanthropists.
The scholarship process started with an invitation to one student from the Indiana University Lilly Family School of Philanthropy to participate in the Impact 100 granting process, with her membership paid by a generous Impact 100 member. It was immediately apparent that these scholarship members were a benefit to the Focus Area Committees (FACs) they joined
In 2015 the Impact 100 Board decided to expand the scholarship program to ten recipients as a way to celebrate our tenth anniversary, and generous donors stepped up to donate the additional $10,000 needed to pay for their membership. The program was so successful the Board decided to make it an annual endeavor with the number of scholarship members determined by the amount of donations into a special Young Philanthropic Scholarship Fund created for that purpose, one scholarship for each $1000 in the fund on December 31 each year.
Says Impact 100 co-founder Donna Oklak, "One young woman a year in the program was good, but ten plus women allows our organization and members to really felt the presence of these budding philanthropists as full participants in our committee work."
Twenty women were selected for 2018 (out of a very competitive field of over 30 applicants):
Samantha Alarie-Leca
Deondra Billingsley
Alexis Davenport
Hadley Green
Stephanie Laskey
Maggie Mestrich
Ciaran McQuiston
Grace Meier
Aleanya Moore
Kayla Plummer
Kathryn Sutton
Cassandra Tice
As a way to introduce our Scholarship Members, we asked each to describe how they impact their Focus Area Committee (FAC) and explain their dream philanthropic project. Because 20 is a lot of people to meet all at once, we'll introduce them four at a time.
Keri Brantley
Kyla McEntire
Kelly Myint
Catherine Sterling
Sierra Seevers-Troitsky
Abbe Shapiro
Amber Sermersheim
Kara Sikorski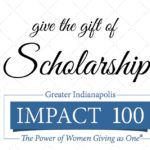 Click here if you'd like to make a donation to the 2019 Scholarship Fund.