POW! Following the Impact at Rock Steady Boxing
by Terry Mumford
The Pow(er) of Women Giving as One was evident October 7, 2015, when 25 Impact 100 members and guests followed the impact of our $100,000 grant to Rock Steady Boxing (RSB).
RSB is a physical therapy program that uses boxing-inspired routines to help patients with Parkinson's Disease fight the symptoms of the disease. The 2010 Impact grant allowed RSB to build out its original facilities and search for an executive director. The popularity of RSB's programs meant that RSB had to move into new facilities 2 years ago. These larger facilities were furnished entirely by donated equipment and furniture. RSB has now expanded its programs to more than 50 facilities and more than 20 states and 2 foreign countries.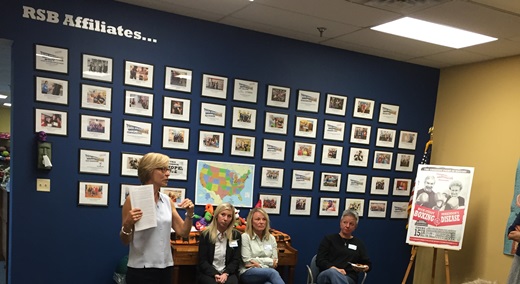 Impact 100 president Beth Thomas talks about the great work Impact and RSB are doing, standing in front of an impressive wall of RSB affiliates!
At RSB's new facility, attendees were very fortunate to be able to watch a class in action and also saw two videos about the RSB program. All were moved by the incredible work that RSB is doing for the Parkinson's population. For those who wish to see the videos and learn more about RSB, please go to the RSB website atwww.rocksteadyboxing.org.
At the event, President Beth Thomas made a very exciting announcement — the Women's Collective Giving Grantmakers Network (WCGN) has selected RSB as one of its spotlight award winners. RSB and Impact 100 will be recognized at the WCGN conference dinner in Charlotte, NC on October 16. The application for the award contained a great summary of the importance of RSB — "Parkinson's remains undefeated, but RSB clients attest, and academic institutions such as Cleveland Clinic, University of Indianapolis and Butler University, are reporting and documenting the improved quality of life….RSB boxers may not win titles or trophies, but they are all champions in the Rock Steady Boxing ring. And Rock Steady Boxing is a champion among nonprofits."
Snacks for the event were provided by Eat Your Heart Out.