Follow the Impact of Our 2008 Change Maker Grant to Horizon House
At the First Thursday Virtual Lunch on February 4, 2021, Impact 100 members and supporters followed the impact of our 2008 Change Maker grant to Horizon House. Horizon House is the only day shelter for homeless individuals in Central IN. Horizon House is a full-service agency that connects individuals experiencing homelessness with integrated, comprehensive services. Horizon House provides a safe place and basic services as our neighbors take steps towards a more stable life. Horizon House is a Head Start Organization. with the mission to improve the lives of low-income children by providing quality early childhood education and family-focused child development services.
Our speaker was Teresa Wessel, Executive Director. Teresa has devoted her life to serving others. In December 2010, Teresa started at Horizon House as the Director of Development and Communications and is closing in on her 8th year as Executive Director. Teresa is Past President and served on the Board of Family Development Services, Inc., for 9 years. Teresa worked for IBM for 26 years prior to retiring. Working at Horizon House is her second career and best career.
The grant that Impact 100 provided in 2008 tipped the scales in favor of a comprehensive approach through case management, allowing Horizon House to move beyond addressing only basic needs. In 2018, the Board challenged the staff to set a goal of ending homelessness, not just managing it. Today, Horizon House has 3 pillars of services: 1. Providing Help (building a relationship); 2. Inspiring Hope (through case management, identifying a way out, including mental health and addiction services); and 3. Finding Home, not just shelter, in the community.
Teresa provided an update on Horizon House's successes and challenges. In 2008, Horizon House served 3300 individuals. That number increased 70% by 2020 to 5631. She is worried that the numbers will increase in 2021 to 6000 and beyond, particularly if the eviction moratorium is not extended. Indianapolis is #2 in the country, behind New York City, in the absolute number of evictions – and that was pre-COVID. Through a challenge from the Mayor's office and funding from the CARES Act, housing is being identified and funded. The retention rate for housing is 96%, much higher than the national average. The goal for 2021 is to increase housing placements by 100 households. Horizon House is building a 36-unit apartment building nearby, using government and grant funds. Horizon House's RISE program encourages job placement. Currently the median pay is $10/hour. The goal is to increase the median to $11/hour and eventually to a living wage.
Through the expanded housing program, RISE, and partnerships for medical and mental health services, Horizon House seeks to have their neighbors thrive, not just live.
Teresa noted that our Impact 100 Board President Karen Holly had been recognized by CHIP Indianapolis as a Community Collaborator.
Teresa reviewed options for donations and volunteering. Horizon House has a wish list on Amazon. The most needed items right now are jeans, hoodies, and men's and women's underwear. For Valentine's Day, they are asking for snack bags filled with the preferred items as described below that can be given to that day's visitors.
Julianne Robinson, Impact 100 Board VP and Membership Chair, closed out the formal part of the meeting by reminding participants that now is a good time to rejoin Impact 100 for 2022 – go to www.impact100indy.org. She also noted that the focus area committees were in full swing and that full grant proposals would be due in March. She invited participants to join the Membership Committee to assist in planning in-person and virtual meetings. The Membership and Marketing Committees will be starting soon to plan our TWO important grant-related events Big Reveal (May tba) and Annual Awards Celebration (June 8th). Any member who is interested in joining these committees should email impact100indy@gmail.com. Julianne also encouraged participants to check our website and sign-up for the March 4 Virtual Lunch with Earth Charter Indiana (2018 grant finalist). Friends, family, and co-workers are welcome.
Horizon House Valentine's Day Snack Bags:
A great way to volunteer on Valentine's Day in a socially-distanced way!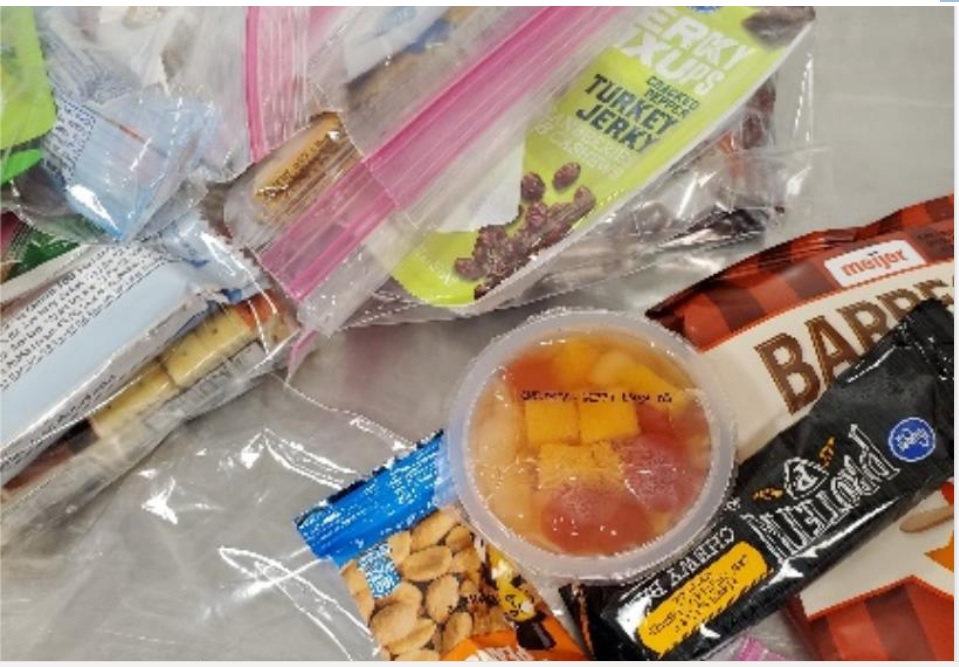 You can help by making snack packs for our neighbors. This could be a great project for any group or organization looking for ideas.
For each snack bag, put the following in a quart-size (or larger) Ziploc bag:
Single-serve chips
Granola bars
Single-serve nuts
Squeezable applesauce OR fruit cup with spoon
Mini Slim Jim OR small pack of cookies OR cheese crackers
Canned protein – tuna, Vienna sausages, etc. (bag or tab-open – please don't include anything requiring a can opener)
Bottle of water
Valentine's Day note card
Seal the bag and you have a healthy and appreciated snack bag, letting our homeless neighbors know they are remembered on Valentine's Day.
Deliver to Horizon House
1033 E. Washington St., Indianapolis IN 46202
317-423-8909
Open: Mon, Tues, Thurs, Fri 7am – 3pm; Wed 7am – Noon