Neighborlink 2021 Interim Change Maker Grant Report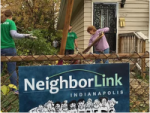 NeighborLink Indianapolis received a Change Maker Grant of $100,000 in June 2021 from Impact 100 Greater Indianapolis. They submitted the following report in December 2021 to keep our members informed on what they are doing with the grant money to date.
Please list the primary goals identified in your proposals and describe the progress you have made toward meeting each goal, including specific examples. Please explain any variance from your goals or expected progress.
Goal 1: Every senior in need has a place to go for help. 
We have partnered with Marian University's School of Social Work specifically to provide more social services resources for our homeowners as they begin our intake process. We are working to establish an additional arm of this social service net by connecting homeowners who would be better served by continuous social work services with the Health Department's Social Workers who would partner with a homeowner for an additional 12 months.
We have explored more around the full Johns Hopkins CAPABLE model and determined that though we would be a direct partner in that full model, we are not the best organization to initiate it within our community. We have continuously kept it in the conversations with the area medical services we have partnerships with and continue to keep its philosophy in mind as we connect with other key partners.
Goal 2: Service capacity increases 2X in 2 years (and 10x in 10 years)
Infrastructure has completely transferred from volunteer leadership to paid professional staff. This has already proved to be exceptionally beneficial for our efficiencies and ability to go after more projects and help more homeowners. We are already above our projected number for 2021 and are realistically optimistic that we will be able to hit our goal of increasing to double our numbers in 2022.
The goal of having facilities for paid staff as well as our storage in a single location has been realized already. This has also proved to be hugely beneficial for our efficiency in meeting the needs of our community. Having professional staff in place as well as a single location for our homebase will allow us to hit the ground running in 2022.
One of the objectives was around our Client Services Program being fully staffed and able to serve more than 500 homes annually. As of the writing of this document, our Client Services has connected with more than 460 homeowners with varying degrees of service. We are very encouraged by the progress here.
Goal 3: Self Sustaining with long-term sources of income
In collaboration with our board of directors we are exploring lines of business that would allow for a steady income stream to cover our payroll and facilities along with the cost of that line of business.
We have been fortunate this year to solidify long-term funding partnerships for sections of our organization. Our goal was to identify three significant sources of funding. We have completed two of three of those contracted relationships. One for a five-year commitment, the other for a one-year commitment with the potential to add years.
We have obtained professional tools to manage key resources, and our CRM system is completely up and running and proving to be invaluable in this. We are better set up to begin 2022 with better donor relations, better volunteer communication and data for all things. We knew this would be a huge help to us, but we had no idea how incredibly helpful it would be for nearly every section of our organization.
We are establishing partnerships around aging in place, health care, social services, financial, legal, services. We have established partnerships for financial, legal, ramps, heating services and are working on health care resources for homeowners. We are specifically working on developing direct lines of communication with certain partners that will allow us to easily transfer qualifying homeowners to those partners for extended services.
Has your timeline, budget, approach or plans changed from what was described in your original proposal? If yes, please explain.
Timeline, budget and plans have not changed significantly. As described in goal one, our approach around the CAPABLE model has shifted due to complexities around the concept and funding sources. However, we are still on track in utilizing the CAPABLE philosophies for looking at the whole homeowner situation and providing resources when able.
Describe the response of the community or clients to the program thus far.
Our ability to meet the needs of this community more efficiently, swiftly and completely has been noticed by our team, our volunteers and the vendors we work with. The measure of success from our homeowners' perspective is that their concerns are taken care of in a timely manner instead of having to wait for months before something is taken care of. Our conversations with neighborhood groups and community development corporations have certainly been very positive and laying a great foundation for further collaborations in the future.
Please describe any unanticipated challenges encountered with this project to date and explain how you plan to address those challenges.
Dipping a toe in the medical world really revealed major challenges with being the key initiator of the full-blown CAPABLE model and thus demanded we shift that approach. By placing more emphasis on our client services and resources provided thanks to the partnership with Marian University School of Social Work we are still able to address that goal, just a little differently.
Having all data in one place, more accurate and far more sliceable has allowed us to see where our narrative needs to be adjusted. In places where we estimated numbers or attempted to project costs – we now can be so much more exact on what is needed and what is realistic in achieving. An unforeseen challenge of this is helping to shift the narrative of our organization to be utilizing these more exact numbers and letting go of the former estimations and guesstimations.
Describe specific successes achieved to this point, which demonstrate the positive impact of the program and reinforce why it is a worthwhile endeavor.
Staffing: We've officially hired professional staff – Executive Director, Admin & Development Coordinator, Director of Client Services, Director of Community and Partner Engagement, and a Handyperson.
Numbers: We have completed 467 projects already this year (so far above last year and even 2019), All 467 homeowners helped went through the Client Services vetting process (only a small percentage with Marian students, but their class didn't begin until October.) We still have 196 open projects to work through and we've helped 220 homeowners thus far. We've had the largest number of groups we've ever had, after this Saturday there will be 36 groups of volunteers who've worked with us this year.
Describe any changes that you wish to make at this time to the grant performance objectives and activities.
No big changes other than the pivot away from the full-fledged Capable model and instead a pumping up of the Client Services program, definition of that program and continued funding and resource partners for that program.
Indicate any changes in the proposed project budget since the original proposal was submitted.
For income, we will likely have less individual donations than budgeted, however, it will be made up for in foundation support. In addition to a grant we were aware of at the time of writing the budget, we were awarded a second grant for the Client Services portion of this program. Beyond that, we are on track to meet budgeted numbers for income.
Where Impact 100 dollars were spent:
Employee compensation: Portions of the Executive Director, Admin & Development Coordinator, Director of Operations salaries. We are exceptionally grateful for the Impact 100 grant allowing us to hire the Admin & Development Coordinator.
Professional Fees: We've hired a handywoman for those projects not appropriate for a volunteer, a CPA consultant for advanced bookkeeping and tax filing needs, and the final touches on our CRM system with developers.
Professional Development: CAP certification for our Director of Client Services, the registration fee for our handywoman to receive her electrician license, training for the MU students on how to use the software to intake our clients as well as training them on house visits.
Printing: We have printed ½ page fliers for events, presentations, and other opportunities of partner engagement and awareness. In addition we've been working on this year's Annual Report and donor engagement materials to be completed by the end of Q1 of 2022.
Supplies: We did purchase a couple of desks for our new office space as well as an iPad for in-home visit intakes and a computer for our Admin & Development Coordinator. And Software for the Client Services Intake process.
Space Rental: The Midway Building at New Circle Church is now our official location and rent was assisted by Impact 100.
Marketing & Advertising: promoting services in the zipcodes we serve through SCOOP media ad placements as well as marketing materials to use on visits, presentations, and on volunteer group projects.
Travel: Compensation to our director of operations and any of our employees working volunteer sites in addition to the fuel and maintenance costs of our box truck.
Other: As predicted, the increase of projects does lead to the increase in needed tools, equipment, supplies, etc. We also ran into the situation of needing to find a way to move our trailers to the volunteer sites for work after learning from our insurance company that we shouldn't be using private vehicles for this. We found a used truck to assist with this and were able to contribute some of our equipment funds for that much needed purchase.