Q&A with Amy Micon, 2014 Chair of the Health and Wellness Committee
Amy Micon answers some questions about chairing the 2014 Health and Wellness Committee. If you are interested in joining the Health and Wellness Committee or one of the other Focus Area Committees for 2014 (Education, Family, Environment, and Arts and Culture), please contact Andi Cohen at grants@impact100indy.org.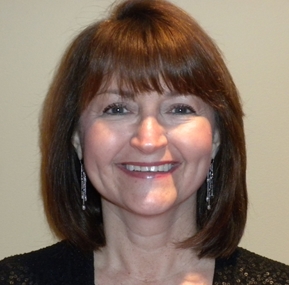 Amy Micon
Health and Wellness Committee Chair: Amy Micon
Email address: amymicon@gmail.com
Assistant Chair: Barb Maurath
Email address: blmaurath@comcast.net
2014 Meeting Location: Indianapolis Hebrew Congregation, 6501 N. Meridian Street
2014 Meeting Times: 12:00 to 2:00 pm on Tuesday January 22nd, Tuesday February 12th, and Tuesday April 16th
Question: This is your first year chairing the Health and Wellness Focus Area Committee (last year you chaired the Education Committee). What aspect of it are you most excited about?
Amy: I have served as a member on the Health and Wellness Committee in the past. Many of the committee members had specific knowledge about the health care industry. I found this tremendously helpful when reviewing the applications and relied on their expertise.
Question: What were some of the highlights from last year's Education Committee meetings and site visits?
Amy: One unexpected highlight from our second meeting was how easy it was to narrow our selection from twenty applications to four finalists. After a thorough discussion of all applicants, we placed stickers on the names of our favorites and we came up with four top choices. It was very clear cut. However, it became more difficult getting from four to one finalist!
Question: Tell us more about your site visit to last year's finalist, Tindley Collegiate Academy.
Amy: We visited the Tindley Prep Academy, their boys' middle school, for our site visit. Tindley Collegiate was not yet built. We enjoyed seeing their STEM (Science Technology Engineering and Math) Lab. You could see the pride on the students' faces. It was incredibly heart-warming. These students were well-mannered and mature. On a second visit, three members visited Tindley Accelerated, their high school. We were anxious to see their motto painted on the wall "College or Die." This motto had been a topic of conversation during our meetings. It was such a shocking statement. As we learned more about Tindley, we understood its importance. Nothing in the student's life is more important than going to college.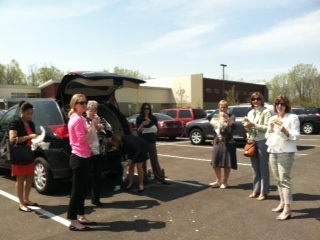 The Impact 100 Education Committee enjoying an al fresco lunch after their visit to Tindley Prep.
Question: Tindley was the $100,000 grant winner this year. Can you share what it felt like shepherding Tindley through the process?
Amy: Making the final decision of Tindley Collegiate was very difficult as we had three excellent finalists. However, once the decision was made, I was surprised how competitive I became! Their development officer and I spent hours fine tuning the write-up for the members. It is an important document for those voting by proxy. There is also the "coaching" of the speaker at the dinner. Typically, the speaker will hold a practice session with a few committee members. However, Marcus Robinson, CEO of EdPower, doesn't prepare speeches. He speaks from the heart. We had no idea what Marcus would say that night. When it was announced that Tindley was the winner, I was incredibly relieved.
Question: What has been most surprising or interesting about being a Focus Area Chair?
Amy: Although this was my first time serving as an FAC chair, I have been a committee member every year. This is my favorite part of being an Impact member. I enjoy being persuaded by other members. I enjoy the democratic process. My goal as the chair was to make sure the process was thorough and fair. If I accomplished that, then each member would feel compelled to rejoin Impact the following year. After all, none of this is possible without members.
Question: What brought you to Impact 100?
Amy: A friend of mine introduced me to Impact 100. Our members are our best resource for recruiting new members. We all need to remember that because our future depends on it.
Question: You've had a number of different "jobs" at Impact 100. Can you tell us your other volunteer roles?
Amy: For three years I served as the director of membership. When recruiting new members, I try to impress upon them that this is an opportunity to do something "BIG". By joining our women's giving circle, you can pool your donation with other women and accomplish something you could never do alone. However, you must be open to the democratic process and understand that doing something "BIG" requires compromise. All of our finalists are outstanding, but your favorite may not win the $100,000 grant. That's the compromise. You need to be okay with that.
Question: What do you love about Impact 100?
Amy: My favorite thing about Impact 100 is that this group attracts smart women. We don't always agree on everything. We are passionate and opinionated! All in all, we make good decisions.
Question: What would you tell someone who is thinking about joining us?
Amy: If you want to meet smart women in a casual environment and learn about the needs of the Indianapolis community, join us!