IndyFringe Prism Project Free Concert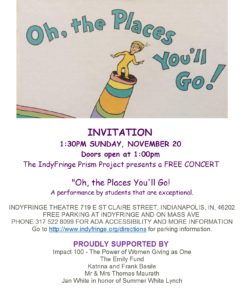 The IndyFringe Prism Project is presenting a free concert on Sunday, November 20, at 1:30pm.
The Prism Project is a performing arts curriculum promoting both inclusion and access to the arts for young people with special needs. The Prism Project was the recipient of a 2016 residual grant of $18,333, and is a collaboration between IndyFringe and Ball State University..
For more information about the concert and the Prism Project, go to http://www.indyfringe.org/prism.