Impact 100 Member Profile: Roberta Knickerbocker Jaggers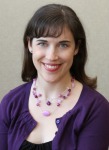 Roberta Knickerbocker Jaggers is Vice President of the Indianapolis Public Library Foundation, which supports and enhances programs, services and facilities of The Indianapolis Public Library and its partnerships in lifelong learning initiatives that benefit a diverse community.
A graduate of Indiana University's Center on Philanthropy and School of Public and Environmental Affairs, Roberta holds a Master of Arts degree in Philanthropic Studies and a Master of Public Affairs degree with a concentration in nonprofit management. In her role as Vice President, Roberta solicits and stewards gifts from a wide range of individual, foundation and corporate donors and manages the Foundation's day-to-day development operations. She has been with the Library Foundation in various capacities since 2002. She currently serves on the Philanthropic Studies Academic Program Committee with the Center on Philanthropy and is a member of the Development Committee of Mental Health America of Greater Indianapolis.
Impact 100: When did you first hear about Impact 100 Greater Indianapolis? What were your first impressions?
Roberta Knickerbocker Jaggers: I heard about Impact 100 when the organization publicized its first round of grants. It was a bold, innovative venture that presented a great opportunity for area not-for-profit organizations.
Impact 100: When and why did you join Impact 100?
Roberta: I joined in December 2013. Earlier that year, my organization – The Indianapolis Public Library Foundation – applied for a grant and reached the site visit stage. Although our organization was not selected as a finalist, several Impact members stepped up and helped fund a portion of the project on their own. When one of the women asked me to join Impact, how could I say no? I reached a stage in my personal and professional life where I was looking to become more involved, and this seemed like a great opportunity. As an alum of Giving Sum, I believe in the power of giving circles.
Impact 100: What do you think people would find to be the most interesting thing about Impact 100?
Roberta: The women in Impact 100, particularly those who serve on Focus Area Committees, are REALLY INVESTED in their finalist organization. They dedicate their hearts and minds to the grant making process and helping their finalist succeed.
Impact 100: You just joined the Impact 100 board. What will be your role on the board this year?
Roberta: Next year, I will chair of the Environmental Focus Area Committee.
Impact 100: What first got you interested in pursuing a career in philanthropy?
Roberta: That's an interesting question, because it doesn't seem children aspire to be fundraisers when they grow up – they way they want to be teachers or doctors or firefighters. For the longest time, I thought I was destined to be a reading specialist and had planned to go to graduate school for teaching right after college. But, for some reason, it didn't seem right to plan for a lifetime in the classroom without experiencing the outside. So, I delayed my plans and took a job at a small not-for-profit organization in Poughkeepsie, NY called Dutchess Outreach. We served the poorest of the poor with emergency assistance for food, prescription medicines, and utility and rent payments. It was the most eye-opening year of my life, and it was there I discovered the profession of fundraising. One day, there was a fire drill and while everyone was outside, I approached a development officer from another agency in our building for advice. He encouraged me to attend what is now the Lilly Family School of Philanthropy at Indiana University. So, that's the story of how I ended up in philanthropy and in Indiana.
Impact 100: Tell us about your work at the Indianapolis Public Library Foundation.  What makes up your day there?
Roberta: I have been with the Library Foundation for more than ten years and absolutely love it! As Vice President, I'm responsible for managing the Library Foundation's day-to-day fundraising operations. The Library Foundation provides approximately $2 million to the Library each year – we fund about 80 percent of the Library's programming budget, as well as various collection and technology needs. The Library Foundation has an amazing staff and board, and we all work as a team to learn the Library's needs, raise funds and deploy donors'  generous investments to valuable educational programs for people of all ages. On any given day, I could be meeting with a donor, writing a grant proposal or running the numbers to see how if we're on target to meet our revenue goals. It is always fun to talk with Library staff about their aspirations and the various initiatives the Foundation has helped support.
Impact 100: What is the most rewarding aspect of your work at IPLF?
Roberta: Aside from the great people I get to work with, I am really proud of how the Library Foundation helps the Library advance in its strategic goals. For example, the Library's 2009-2014 strategic plan called for an increased focus on early literacy. Thanks to the efforts of a Foundation director and several Library and Foundation staff members, we were able to raise seed money for several new and expanded early literacy initiatives, as well as endow The Herbert Simon Early Literacy Specialist position. While endowed positions are common in universities, they are not so in public libraries. The Early Literacy Specialist has been a transformative addition to the Library. The range of programs and services we now offer early learners and their caregivers is substantial. The Early Literacy Specialist has also been pivotal in connecting the Library to other organizations working to improve childcare quality, such as United Way of Central Indiana and Early Learning Indiana, which has increased the Library's impact.
Impact 100: What should people know about Impact 100 Greater Indianapolis?
Roberta: Because the concept of philanthropy can seem rather "high brow," it is important for potential members to know how welcoming and inclusive Impact 100 actually is. While the women of Impact share a commitment to making Indianapolis a better place through collective philanthropy, we are diverse in age, professional background, family life, experience in philanthropy and even financial capacity. While the membership fee of $1,000 is a lot for some of us, Impact is really committed to offering members a variety of options – ranging from paying the membership in installments, to joining a syndicate where a group of women split the membership fee and share a vote. In the past, the organization has also provided scholarships to seed young philanthropists. While the organization needs to raise enough to give away $100,000 each year, members are valued above all for their talent, time and enthusiasm.
Impact 100: What's your favorite thing about Indy?
Roberta: In Indianapolis, there is a very strong civic sense. Compared to other places I've lived, people here feel more empowered (and more obliged) to do what they can to make Indianapolis the best possible city it can be. Since we don't have oceans and mountains, perhaps we have to work harder to compete with cities endowed with striking natural amenities. But, in my mind, the can-do spirit, determination and pride that characterize the people of Indianapolis is even more energizing. It was one of the first things I noticed when I moved here.