Indianapolis Shakespeare Company 2021 Residual Grant Report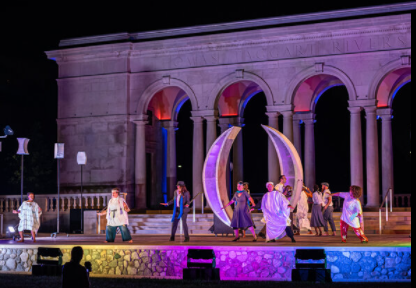 Indianapolis Shakespeare Company received a residual grant of $17,038 in June 2021 from Impact 100 Greater Indianapolis. They submitted the following report in December 2021 to keep our members informed as to how the grant money was used.
How did the unrestricted fund strengthen your organization?
The process of applying for the Impact 100 Grant facilitated discussions among the Staff and Company about our 2022 production and the details around producing Hip Hop Shakespeare. This thought process coalesced an already captured strategic plan focus — how diversity, equity, inclusion, and access (DEIA) manifest through not only voice and representation on the Board, Staff, Company, and cast but in our production choices. The marriage of two art forms, Hip Hop and Shakespeare, honors and uplifts the culture of the Near Northwest neighborhood we call home and illuminates the relevance of Shakespeare's 400-year-old words in today's world.
Knowing we would proceed with this project inspired an update of our vision — "To redefine the intersection of professional theatre and community," and our mission — "To share the joy of live professional theatre with all; to build community with Indy's Near Northwest and beyond."
The recognition by Impact 100 Greater Indianapolis provided a springboard for applying to many other grant funders in support of Hip-Hop Shakespeare, not just with the reputational benefit but the additional funding to pay staff for the effort that goes into application processing. Each application allowed Indy Shakes to explore operational concepts of how the project could proceed. The evolving concept will serve us well during our 2022 grant application process.
Describe the specific successes achieved as a result of receiving the unrestricted funds from Impact 100 Greater Indianapolis.
Our marketing received a big boost when Indy Shakes tagged Impact 100 on social media and when Impact 100 tagged us. It was clear that the prestige of being a finalist for the grant caused many to pause and pay attention — reaching a whole new sector of the Indianapolis community through our publicity for Midsummer and our September gala. Our individual contributions were $5,000 above the 2021 budget before our gala, in part due to being an Impact 100 finalist.
Indy Shakes moved forward with the October Hip Hop Shakespeare workshop because we received the funds from Impact 100. Otherwise, this critical workshop that laid the foundation for our Summer 2022 Hip Hop Shakespeare production could not have happened. We did not have the budget to pay the artists or make a promotional video. The confidence of Impact 100 in our project translated to the AWClowes Foundation, which recently awarded half of the $19,000 capital cost needed to conduct Hip Hop rehearsals before 2022 grant cycle approvals.
Most importantly, being an Impact 100 finalist publicly announced community support for Hip Hop Shakespeare assisted the selection process for our October workshop. We engaged a cross section of local and regional talent to represent the many Spoken Word, Hip Hop, and Shakespeare expertise: besides Director Mikael Burke, Producer/Rapper Geechie, and Project Leader Ryan Artzberger, Lorenzo Roberts, Bespoke317, Manon Voice, Kelsey Johnson, and Shawnté Gaston participated in developing the process to combine selected scenes and monologues from Richard 111 (the Shakespeare play we will be producing in summer of 2022) to different modes of combining text with beats. Follow us on social media to receive public announcements of our 2022 production in the new year.