Impact 100 President Terry Mumford on WCGN Panel Discussing Grants Creating Ripples
Research tells us that measuring results is important, and the experience of organizations like the Bill and Melinda Gates Foundation validates that lesson. But collective giving organizations make a variety of grants over the long term, creating something like an artist's portfolio. Are there ripple effects, impacts that go beyond a particular grant? In the WCGN webinar Grants Creating Ripples: Impacts on Our Grantees, Our Communities, and Ourselves experienced grantmakers Susan Benford, Amy Michaels, and our own president Terry Mumford discuss how their grants have impacted the grantee, the community, and the collective giving organization itself.
As members of WCGN, we have the ability to share WCGN presentations with our members. In order to view the presentation, you must first register on the WCGN website. Go to https://www.wcgn-network.org/webinarregistration to complete your registration. Once registered, you will be able to view their other recorded presentations.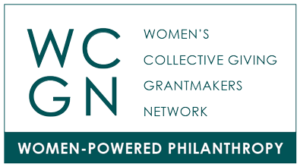 More information about WCGN can be found on their website. www.WCGN-network.org