Congratulations to Our 2014 $100,000 Grant Recipient, Social Health Association of Indiana
We are thrilled to announce that Social Health Association of Indiana has received Impact 100's $100,000 grant for 2014 for its program, Step Up for Kindness.
"Impact 100 is honored to support Social Health Association of Indiana," said Karen Holly, president of Impact 100. "It's clear that our membership saw the value of providing funding for their Step Up for Kindness program."
The selection process began in January 2014 with grant applicants submitting letters of intent. Five Focus Area Committees then vetted one finalist in each focus area. Social Health Association of Indiana was a finalist in the Health and Wellness Focus Area. The other 2014 finalists were:
• Arts and Culture – Big Car Collaborative – DoSeum Launch
• Education – Lutheran Child & Family Services – YouthBuild – Indy Bridge Project
• Environment – Indianapolis Parks Foundation – Indy Urban Acres
• Family – John P. Craine House, Inc. – Backyard and Park Project
The four remaining finalists each received unrestricted grants in the amount $4,250.
The Step Up for Kindness Initiative will use the most complete evidence-based, age-specific curriculum available to educate 31,800 students ages 5-14 in 100 schools and community locations throughout Marion County. Customized to meet schools' specific cultural needs, students will complete four sessions annually, totaling 5,100 hours of education. Through long-term, sequential instruction, students will be empowered to exact behavior change, leading to measurable decreases in bullying incidents and increased safety in school communities. Step Up for Kindness' website portal will provide free, online educational resources to an even larger audience.
Congratulations to Social Health Association of Indiana!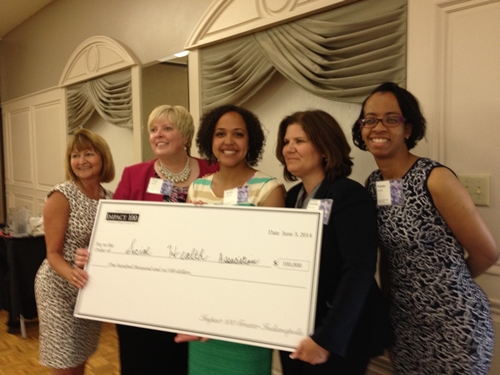 Committee chair Amy Micon and Impact 100 president Karen Holly with members of Social Health Association of Indiana, with their $100,000 check.