Congratulations to Our 2017 $100,000 Grant Recipient, Volunteers of America!
Congratulations to Volunteers of America, our 2017 $100,000 grant recipient! Volunteers of America will use the $100,000 grant to quadruple the families served through their Fresh Start Recovery Center, a residential addictions treatment program for pregnant women and mothers of young children combating the exploding opioid addiction epidemic. With 142 mothers on the wait list, it can take more than nine months for new families to enter the program – far too long for mothers ready to address their addiction.
"We're grateful to the members of Impact 100 Greater Indianapolis for awarding us this grant. This funding will ensure that over 600 families receive treatment and at least 30 infants are born without illicit drugs in their system every year," said Shannon Schumacher, chief operating officer at Volunteers of America of Indiana.

This year marks our 12th anniversary of giving to the Indianapolis community. To date, we have awarded more than $1.9 million to local nonprofits.
The other finalists included: Big Car Collaborative (Arts and Culture), DirectEmployers Institute (Education), Marian University (Environment); and Children's Bureau (Health and Wellness). The four remaining finalists each received residual grants in the amount of $15,000.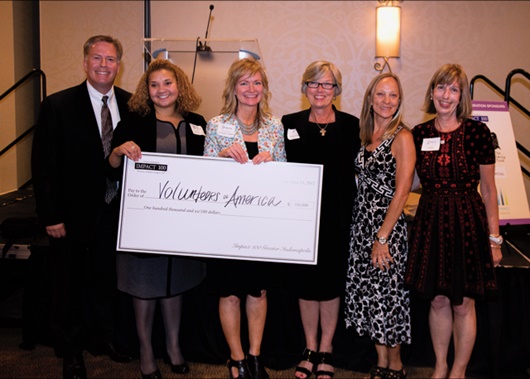 To date, 14 local nonprofits have received $100,000 and 35 have received residual grants as a result of Impact 100 Greater Indianapolis' collective giving. Previous high-impact grantees include: The IMPACT Program to Curb Runaway and Human Trafficking of Young Girls/Ascent 121 and Lutheran Child and Family Services (2016), Indianapolis Parks Foundation for Indy Urban Acres Flower Farm (2015); Social Health Association of Indiana (2014); Tindley Collegiate (2013); Jameson Camp, Inc. (2012); Outside the Box, Inc. (2011); Rock Steady Boxing (2010); Outreach, Inc. (2009); Herron High School and Horizon House (2008); Indy Reads and Craine House/Fairbanks (2007) and Eskenazi Health Center Pecar (2006).