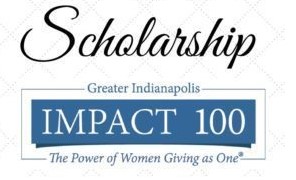 Please use the form linked at the bottom of this page to apply to Impact 100's Leaders of the Future Scholarship Program. This program covers the cost of membership for those working to become tomorrow's philanthropists. Scholarship recipients are encouraged to participate in all aspects of the Impact 100 process, including serving on a Focus Area Committee and voting at our Annual Celebration Dinner.
To be considered eligible, the applicant must:
Identify as female.
Live in Marion County or one of its donut counties (Hamilton, Hancock, Shelby, Johnson, Morgan, Hendricks, or Boone).
Be between the ages of 23-36 OR within the first 10 years of a public service career.
Pledge to do ALL of the following:

Serve on a Focus Area Committee, abiding by the organization's grant-making procedures and conflict of interest policy.
Attend and volunteer at the Annual Dinner.
Attend at least four more Impact events during the scholarship calendar year, volunteering for at least one of them.
Make two social media posts about the experience of being a scholarship member.

Have not received an Impact 100 Scholarship Membership previously.
Important Dates for 2022
October 17: Scholarship Application Form is available
December 12: Applications are due
December 20: Scholarship Recipients notified