Our Holiday Party Went Virtual!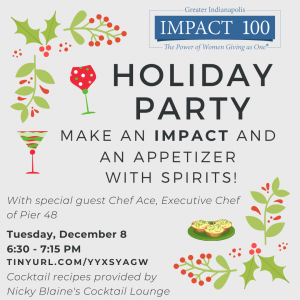 Our 2020 Holiday Party went virtual! We spread holiday cheer and made cocktails recommended by Nicky Blaine's Cocktail Lounge and the Artichoke Ramekin with Garlic Toast Points provided by Matthew Ace, Executive Chef of Pier 48 Fish House and Oyster Bar.
During the party we were joined by Lizzie Knol, Grants Co-Chair. Lizzie provided information on this year's Focus Area Committee choices, and stayed online after the party for questions. 2021 Members can access the FAC sign-up here.
In addition, Outside the Box and IndyFringe, two past grant winners, gave us an update on their progress and development.