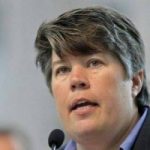 Chris Paulsen
Chris Paulsen (she/her/hers) is the CEO of Indiana Youth Group (IYG). Indiana Youth Group serves LGBTQ+ youth and their straight allies, ages 12-24. IYG provides housing, case management, tutoring, clothing, food, education, suicide prevention programming and a safe space for youth and young adults. IYG also runs the Gender Sexuality Alliance in Indiana for youth in over 80 schools statewide.
Chris has a been an active member of the LGBTQ+ movement as a board member and President of Indiana Equality Action, a founding board member of Freedom Indiana during the marriage amendment fight, the campaign manager and lobbyist for LGBTQ+ statewide equality, and as a member of the capital campaign committee of Indiana Youth Group. Chris also serves on the Board of Directors for Women 4 Change.
Chris has an undergraduate degree from Hanover College and a MBA from IU-Southeast. She has lived on the south side of Indianapolis with her wife, Deanna Medsker, for 25 years.